Kaname Otonashi is gifted with a super-hearing ability, so much so that he can even hear voices from the "other side"…the dead. Having once worked as a top-notch detective specializing in Sound Engineering Investigation, Otonashi resigned to work as a private investigator. His partner, Yasuhide, aka Hide, collaborates with the police department to take on unsolved and mysterious cases. Surrounded by a string of mysterious deaths, the police turn to Kaname's findings to identify suspects…but can Kaname handle the non-stop screaming of the dead?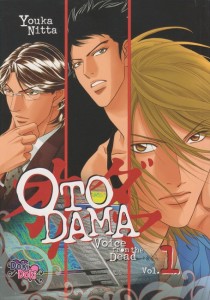 By Youka Nitta
Publisher: Digital Manga Publishing
Age Rating: 16+
Genre: Drama
Price: $12.95
 Otodama: Voices of the Dead is a detective buddy story with a supernatural twist. It's premise of the voices of the dead remaining behind long after the deed has become a staple in ghost investigations, but to this title's credit, the voices of the dead don't solve the cases as much as Otonashi's abilities and Nagatsuna's determination do.
Otodama is about two men. Kaname Otonashi is a former researcher at the National Police Research Institute where he specialized in aural forensics. He analyzed sounds and recordings for clues to help in cases. Otonashi has very acute hearing. He can hear things others can't even without the help of audio equipment. This includes hearing the residual voices of the dead. This ability is both a blessing and a curse. In order to escape the sounds around him, even the everyday ones, he has a special sound proof booth where he can sleep. He has a subdued and serious personality. He keeps his cool in most situations, except when the sounds around him are overwhelming. He can be rather sarcastic, especially with Nagatsuna. He currently works as a sound engineer.
Yasuhide Nagatsuna, aka Hide, is a former police detective. His twin brother is a Superintendent in the National Police department. Nagatsuna and Otonashi used to work together at the department, but they both quit after an "incident". Hide now works as a private detective, taking on cases the police don't take seriously, mostly small cases. There's not a lot of money in these small cases, so he's always struggling for money, but he's determined to keep his course no matter what. He's impulsive when working a case, but is always chastising Otonashi for his carelessness in his personal life, such as leaving his door unlocked. He acts a bit like a big brother to Otonashi.
This first volume has three cases that pull Otonashi and Hide back to the National Police Department as first Hide's strange calls case and then Otonashi himself become connected to case Hide's brother is investigating. The cases are set up well, with just the right number of red herrings to keep the reading guessing who the culprit might be. Otonashi uses his reason and aural skills to solve the crimes, with the voices of the dead being just another piece to the puzzle rather than the key, which is what gives the stories credence.
This title is mostly populated be men, all drawn as bishonen (pretty boys), including the bad guys, but there's no hint of any kind of relationship between any of them beyond being buddies. There is only one female in the cast, Takashiki. She is a psychologist turned cop with a cool, detached personality that is always at odds with Superintendent Nagatsuma. It seemed a little weird at first, but is also probably a more realistic depiction of the Japanese Police force, particularly with regards to detectives. She not really likable, and got on my nerves more than once. Your mileage may vary.
I really enjoyed this first volume of Otodama: Voices of the Dead. It's a good police procedural with the two seemingly incompatible leads working perfectly together, much like shows such as Mentalist, Bones and Castle. The supernatural part of the story, the residual voices of the departed seems plausible enough to keep the chapters from drifting too far into fantasy. It's engaging characters and great writing makes it a title I can't wait to read more of.