Claire Lyons is the new girl at Octavian Country Day, an exclusive private school in Westchester County, New York, but this girl in GAP overalls isn't even close to prepared for the social (and fashion) demands of her new peers. To make matters worse, Claire's family has moved into the guesthouse of the Block family, and Massie Block just happens to be the queen supreme of Claire's new school and hasn't taken a liking to the new girl squatting on her estate! Does Claire have what it takes to become a part of The Clique?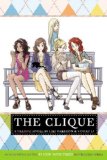 Written by Lisi Harrison; Illustrated by Yishan Li
Publisher: Yen Press
Age Rating: Teen
Genre: Drama
Price: $11.99
Yishan Li's manga adaptation of Lisi Harrison's popular Young Adult novel series The Clique is filled with melodramatic moments, pranks, and friendship rivalries.
Claire and her family moves into the guesthouse of Massie until her family can become more financially stable. Before even getting a glimpse of Claire, Massie has already had it set in her mind that she will not like nor have any intention of becoming friends with the poor girl. Initially naive Claire tries to be chums with Massie til making a few friends of her own at the elite Octavian Country Day school located in Westchester County that  they both attend. After being pushed aside and being the butt of pranks Claire decides to push back with some schemes of her own.
Overall the artwork for this volume is done very well. I enjoyed the eight full pages of color in the beginning of the book along with the illustration of Claire and Massie's group of "it" girls. The illustration of the girls turned out to be a handy reference while reading. One of the problems I had was with the character Dylan since her appearance to Massie was very similar (along with her attitude which makes it all the more difficult to distinguish the two.)
Before I even picked up this book I expected that I would have not enjoyed reading this because I have never come across any of the novels, nor had a desire to do so. But I was surprised to find this to be a quick, light, and somewhat enjoyable read. Perhaps the melodrama is thicker in the novels since I was half-hoping for it to be much more fierce and spiteful between Claire and Massie.