At the age of twenty-five, newlyweds Makoto and Yura experience intercourse for the first time. 
Now, with their first anniversary right around the corner, Makoto and Yura are just as determined to be sexually fulfilled as the day they said their vows!  But fears Makoto might be cheating test Yura's trust and inhibit her libido, while their niece Jun looks for love in all the wrong places.  Follow the hot young couple as they step up into love and continue getting it on… and on… and on!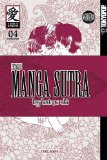 By Katsu Aki
Publisher: Tokyopop
Age Rating: M (18+)
Genre: Romance?
Price: $19.99
This volume continues the one-shot chapter formula, with the bulk of the focus on Makoto and Yura learning the best ways to satisfy one another amid a variety of everyday situations (ski trips, separations due to work, various anniversaries, et cetera).  Alternate perspective and advice is offered, however, in chapters about Makoto's over-sexed 20-something sister and Yura's confused and newly available teenage sister.  There's even some advice offered for singles, couples in sexless marriages, and others as well.  It's light on plot, but extremely thorough and very informative in a non-creepy way when it comes to the how-tos.
A likable main couple goes a long way to keeping these books readable, and this volume does do a lot of "stepping up" and deeping of Makoto and Yura's relationship, if nothing else story-wise.  There are less stories about interrupting side characters this time around, and lots and lots of focus on just Makoto and Yura, which means there's a lot of Makoto asking for sex.  It seems he thinks of little else.  This would come off as crass in any other series, but he's completely guileless when he does it, and more often than not, Yura readily accepts.  It also helps that it's clear that he genuinely loves Yura.  There are plenty of chapters where the two dote on each other outside the bedroom, and even a chapter or two completely without sex, but full of affection.
Having said that, as a romance manga, it's not very good, but that's because the emphasis is on the sex education.  The statistics and factoids are still fascinating, and the variety of situations never fails to amaze me.  This time, we learn the how-to of massage oil, the science of alcohol and sex, different methods and techniques to use in the bath, and even what to do if you want sex while your mother-in-law is visiting.  In addition to thorough, annotated walkthroughs, the usual statistics about how many couples do what and what males and females prefer accompany the how-to sections.
This was unfortunately the last volume Tokyopop released before they restructured, and it seems no further volumes are planned.  But still, these four omnibus volumes stand as one of the more fascinating and unique examples of just how diverse manga in Japan really is.  And it's not bad as a sex guide, either.