Life is always about patterns. In the pharmacy world, we look at physician prescribing patterns, dispensing patterns by geographical location, and pricing patterns based on trending legal proceedings. In manga, we see patterns in various genres – the shonen fighting manga, the shojo school-girl manga, all have similar formats that we know sell well, and work well in the Japanese market. Some series attempt to subvert or modify these patterns, which is part of their appeal (or the reason we don't like them). Even authors follow patterns based on what they are interested in, or what they like to discuss.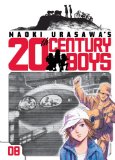 By Naoki Urasawa
Publisher: Viz Media – Viz Signature
Age Rating: Older Teen
Genre: Thriller
Price: $12.99
Naoki Urasawa has a pattern that manifests itself all too frequently in his suspense and thriller manga – when he gets stuck, or doesn't know how to work his way out of a problem that he has written himself in, he introduces new characters to his stories.
In 20th Century Boys, Volume 7, we see Urasawa flounder to produce a back story for the Bloody New Years, and so he introduces a student Koizumi who looks too closely at the history books, and after consulting a homeless man, finds out that what she has been taught is all a sham put on by the Friends, as part of their work to control Japan and most likely the rest of the world.
Volume 8 continues this storyline by having Koizumi sent to a brainwashing camp for the Friends because she's been poking around too much. Urasawa uses this detour to give out some more information about the surviving members of the "terrorist plot" against the Friends, but eventually he winds his way back to the main storyline, where Kana tries to unite the Chinese and Thai mafia against the Friends. It is an interesting development, and we learn more about Kenji's original "Book of Prophecy" and another book, "The New Book of Prophecy," as well as some hints about Kana's mother.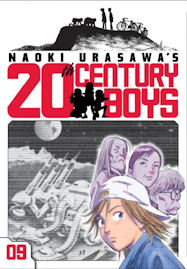 It is hard to find bad things to say about Urasawa, but it is worth mentioning that 20th Century Boys is not as gripping a tale for me as was his earlier series, Monster. After the 7th volume, I fell off the band wagon, having only just read volumes 8 and 9. Still, when it is in my hands, 20th Century Boys reads so easily, and far too often, so quickly. His ability to pace his stories and hold out on key information makes his stories at times maddening, and I think that's a great trait to have as a suspense writer. I want to be wowed, and if I immediately want to buy the next volume to see how things play out, I think that's a sign that he's a fine writer.
I also appreciate Viz and the production values for its Signature line of manga. The larger size and higher quality paper and inks make these volumes stand out on a bookshelf, and they are a real joy to read. The price point feels fair, and oftentimes these books are available from major retailers at a nice discount, so the price point is nearly the same between these books and their regularly priced $9.99 volumes.
Overall, things are going well in 20th Century Boys, and I don't think that my opinion is going to change much as the series progresses. Still, Urasawa has a chance to mess up. I've heard that 20th Century Boys ends poorly, so I am waiting with trepidation for that train-wreck. For now though, things are still running smoothly down the tracks. There is no reason to not be reading 20th Century Boys; it is a solid thriller backed with a well-constructed dystopian framework, and with the 9th volume ending in such an interesting direction, it is possible that the series could get a lot weirder very quickly. I'm looking forward to find out if that is the case.