Natsume Ono is one of my favorite creators in comics today. Her distinct style and charismatic writing have filled many of my evenings with beautiful imagery of Italy and feudal Japan, and her characters have sparked my imagination and wanderlust. When Ono's first works were brought to the USA, we started somewhere in the middle – Ristorante Paradiso and not simple were a progression of sorts from La Quinta Camera, which is some of Ono's earliest work. The series started as a webcomic, and was brought to print in one volume through Viz Media's IKKI COMIX imprint. Of all the creators popularized by the IKKI format from Viz, Natsume Ono is the most complex, and most wonderful. La Quinta Camera is certainly an expression of that – but Ono has learned much between her initial comics debut in 2003 and her currently running series House of Five Leaves.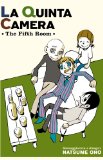 By Natsume Ono
Publisher: VIZ Media LLC; Sig IKKI
Age Rated: T for Teen
Genre: Slice of Life
Price: $12.99
La Quinta Camera is a series of vignettes focusing on four men who live in a five-bed apartment in Rome, and how they use that fifth room; or rather, who they rent it to. The book opens with a female Danish foreign exchange student named Charlotte and the strange circumstances by which she meets all the men who live in her apartment. Ono drops the girl in the middle of town, and she finds that each of the interactions she has ends up being with one of the four men who live at the apartment: Al gives her a ride, Cele insults her in a crowd, Luca plays music and sings with her, and Massimo cooks her dinner at his café. It is a fairly natural progression, and Ono lets the scene do a lot of talking.
Throughout the rest of the book, the short stories fall around with the men (and ladies) of the fifth room. Screenwriters and American students stay in the fifth room, and the four men learn, live, and grow. These characters are unique and easily identifiable, and Ono does a good job differentiating between the four in looks and attitudes. The cast is likable and interesting, which in turn creates an excellent reading experience, because character studies that Natsume Ono is so fond of often live or die by how well their characters interact and attract the reader.
Another attractive feature of La Quinta Camera is its unique art style, which, if I gather from other conversation on the internet, has not been very well received. I suppose that some readers are put off by the illustration style of La Quinta Camera because of how different it is than the style Ono uses for Ristorante Paradiso and House of Five Leaves. The art in La Quinta Camera is sketchy, some might even say "cartoony," as if it were an insult, because they don't like the style comparative to her other work in English. Certainly La Quinta Camera does not use complex illustration like Natsume Ono's other work – but it honestly doesn't need it. The book breathes and lives through these sketches, and it's obvious that the style is not a lack in cartooning skill, but rather a conscious choice.
Natsume Ono is not for every manga reader – people who don't like slice of life will find La Quinta Camera insufferably boring, because honestly, not much happens. If you need someone to shout out the name of a hidden move or punch a guy in the face every chapter, this is probably not a series you are going to like. You won't find action or true suspense with La Quinta Camera. What you will find is an excellent character study and a lovely set of stories based on some of Ono's experiences in Italy. That's the joy of the series, in my mind, and certainly those who love films like Lost in Translation or The Kids are Alright will love Ono's quirky and gentle peek at the lives of four Italian men and their varied house guests.