Born into a family of "Hunters," Takamichi's destiny is to pursue and slay demons. When her twin brother is killed, she is saved from despair by a pair of Jiu Jiu–shape shifting familiars–in the form of two wolf pups named Snow and Night. Now Takamichi is in high school and an active Hunter. Snow and Night can't wait to attend school in their human form to "protect" her. But are they ready to go off leash…?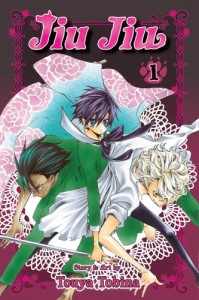 By Touya Tobina
Publisher: Viz Media – Shojo Beat
Age Rating: Older Teen
Genre: Supernatural
Price: $9.99
On first reading, I didn't really like Jiu Jiu. I didn't like Takamichi and Snow and Night were so clingy and annoying. It really took a second read for the story to sink in and for me to understand why they had to be like that. I've come to like the story now, but I am still shaky on the characters.
Takamichi, the protagonist of Jiu Jiu, starts off as rather dis-likable. She is cold and seemingly abusive of her two charges. She always yelling at them or hitting them on the heads. It was very difficult to see anything to like about her. As the story went on, it became clear why she was the way she was and did what she did became apparent, but that wasn't good enough for me at first. It really took a second reading to see more the nuances in her character and for her to become the sympathetic character she was meant to be. The same goes for Snow and Night. They seem more like dogs than wolves, as they beg to be taken for walks and to play with frisbees. Their devotion to their mistress seems misplaced too, as her treatment of them doesn't seem to merit it. They do make their dissatisfaction known to Takamichi and will sometimes disobey her, but they are never defiant of her. As we learn why they are so devoted, their personalities make more sense.
Not much is said about the people around Takamichi and the Jiu Jiu. Her father, the leader of the Hachioji clan is introduced and some other members of the clan are seen, but almost nothing is done with them. This firs volume is mostly reflection by Takamichi about herself, her life, and her jiu jiu. Even when Takamichi goes on a hunt, she is usually reflecting on something else and not really thinking about the hunt. It really makes me wonder what this title is about, since there is so much inner reflection and really not a lot of plot. The whole point of this first volume seems to be about having Takamichi come to realize that she does care for Snow and Night, and they are not the innocent, little pups she received three years ago. They are meant to be a team, working together, sharing the danger and "sin" of the work. They are meant to be together.  Now I want to know what comes next.
While I didn't really care for Jiu Jiu on the first read, a second read for this review has made me think I should give it a second chance. With all the reflection over (hopefully), and Takamichi, Snow and Night now a team, there can be some actual story going forward. I'd actually like to know more about these demons Takamichi fights. I wasn't enamored by the art. There's nothing wrong with it, it just isn't anything great. On the cover, Snow looks weird. There isn't anything as extreme inside, fortunately. I'll give Jiu Jiu another volume or two to see if it goes somewhere. But I don't think I could take another volume full of reflections like this one, so hopefully Tobina has more planned for future volumes.