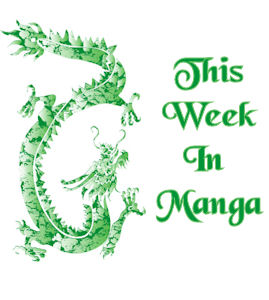 More Simon and Schuster Sightings
The sharp eyes of Michelle Smith of Soliloquy in Blue has spotted some more manga listings on Simon and Schuster from Viz.  Two of them we already knew about; Grand Guigol Orchestra and Cross Game.  But then four new titles showed up scheduled to come out at the end of the year.  Kurozakuro is scheduled for November, and the rest, Kamisama Kiss, Psyren, Itsuwaribito are scheduled for December. I can't say any of them really inspire me, but I've been surprised before.  I am saddened by the news of no sign of Story of Saiunkoku.  I loved the anime, and am so dying to read the manga!  Hopefully the new Kaori Yuki title, Grand Guigol Orchestra, will help to pass the time.
Del Rey Ousts X-Men: Misfits & Wolverine: Prodigal Son

The weekend ended with a bit of downer as news and confirmation of the cancellation of first X-Men: Misfits and then Wolverine: Prodigal Son came out on Twitter. This seemed to be surprising news as X-men: Misfits seemed to have sold fairly well, hitting the New York Times best seller list for a few weeks.  But the creators of both series say Del Rey cited poor sales as the reason for pulling the plug.  While I wasn't all that impressed with the first volume of Wolverine, it was more from Wolverine overkill than poor writing or art.  Others have speculated that the Marvel/Disney buyout may have affected the licensing fees for the titles and made them unfeasible for Del Rey to continue with.  But, wouldn't the contract remain in effect for the whole series?  Could the fees really be changed because of a change in owners?  Who knows if we'll ever know the truth.  It's not like Del Rey cares about the fans or anything.
Speed Up Done Right
Found via Twitter.  It seems Yen Press is joining the Speed Up Releases Race.  Volumes of Goong, a popular manhwa title will start coming out as two-volumes-in-one as of volume 9 (the next scheduled release).  This is a boon for fans of the series.  Volume 8 just came out while in Korea they are up to volume 18.  By doing the 2-in-1 omnibus speed up, Yen Press can catch up the series faster (presumably to reduce the need for scanlations), and fans can keep up with it with out the major payout of money and shelf space.  The 2-volume omnibuses will be less than buying two volumes regularly.  This is a responsible way to speed up a series without leaving so many readers being and in the dust.
DMP on your PSP
Digital Manga Publishing has teamed up with IDW to put their manga on the PSP, starting with their Vampire Hunter D manga.  I think this is terrific news.  The more platforms publishers reach out to the better.  And while the PSP hasn't been the stellar gaming platform that Sony hoped it would be, fans of the platform has been putting comics on their devices for a while now.  And while DMP is the first to put manga in the official Sony Playstation store, Seven Seas has several preview chapters of their original titles formatted for the PSP.  You can direct download them from Seven Seas.
Sometimes It's Nice to Just Be Asked
Last month there was a lot of talk/debate about scanlations and their effects on the manga industry.  Well, the Japanese have finally spoken out on the subject.  In the latest issue of Weekly Shonen Jump, there was a message to the fans, asking them to stop scanning its manga. A full translation of the message is available at the link.  One site has responded.  It's a US site that provided raws.  Now whether they closed down because of a sudden change of heart or because they feared legal repercussions we'll never know.  But, it is nice to see a company appeal to the fans better nature instead of heading straight to the lawyers to deal with a problem.
NYT Best Seller List
Here is a first for the NYT list.  And it's not just about dominance.  Viz holds 9 of the 10 slots on this weeks list, and 5 of those belong to one series: One Piece.  That is quite an accomplishment for a series that usually only makes it to the list occasionally.   It's also exceptional that all but two of the titles on the list are debuts.  But first, Twilight once again holds the #1 spot of the Hardback list.  Over in manga, Rosario Vampire: Season II vol 1 debuts at #1.  Yu-Gi-Oh! R vol 4, featuring the original cast, debuts in at #2. Naruto vol 47 stays in the top five by falling to #3, while another newcomer, Gentleman's Alliance vol 11, the final, comes in at #4.  Spots 5-9 all belong to One Piece, in the order of Vol 40, Vol 39, Vol 41, Vol 43, and Vol 42.  Rounding off the list is that black suited gentleman of Yen Press, Black Butler vol 1 holding on to #10.  This is quite a nice surprise.  Naruto waves may have appeared on the list, but they were only three at a time.  One Piece is pushing five.  But it is also supposed to be an amazing arc, these volumes, all about Nico Robin.  Perhaps people are finally realizing how great One Piece really is.  It's about time!
Manga For Your Ears
Manga Out Loud
Sci-Guys
Spiraken Manga Reviews
This Week at Manga Village
What I'm Reading
Bunny Drop
Legend of the Five Rings: Unicorn: The Second Scroll
And Friday was my Dad's 74th Birthday.  Happy Birthday Dad!