Souji Kushiki, a high school student from a well-to-do family returns home from boarding to school to find things have changed. His three sisters are strangely clingy, and their behavior borders on inappropriate and bizarre. At school, he learns that over the summer, three of his fellow students were murdered, and the links to the murders seem to lead back to his sisters. With the help of his new friend, the cheery and spunky Yukako Sasai, Souji goes in search of the truth behind the murders, the answers to which may just end everything he believes to be true.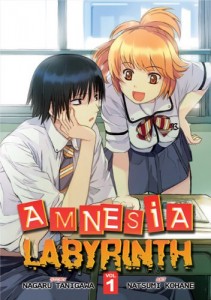 Story by Nagaru Tanigawa; Art by Natsumi Kohane
Publisher: Seven Seas Entertainment
Age Rating: Older Teen
Genre: Mystery
Price: $10.99
Rating:





Amnesia Labyrinth is a thriller-mystery that gave off Higurashi-When They Cry vibes when I started reading it. Many of the characters have creepy and unsettling sides to their personalities, that it seems only Souji sees. While the story moves into some areas of taboo that I don't really care for, the mystery is intriguing.
Amnesia Labyrinth centers around Souji Kushiki, the second son of the Kushiki family and now head of house when his older brother Kazushi takes off. Souji is smart and athletic, and is very stoic to his home situation. He rarely smiles and seems very detached from the people around him. But his family dynamics are key to the story. We do meet his stepmother, but his father, a powerful politician, is never introduced. So the focus revolves around Souji and his three sisters.
Youko is the oldest sister, but is younger than Souji. She is both disturbing and disturbed. She likes to hold Souji from behind with her arm around his neck, almost threatening to choke him. She always has a faint smile on her lips, so it's impossible to tell what she's thinking. She looks as if she could go psycho at any moment. She's tried to sleep with Souji but was soundly rejected. Saki is Souji's half, illegitimate sister, and works as a maid in the house. She not as creepy as Youko, but she has her moments. She IS sleeping with Souji. Harumi is Souji's step sister, the daughter of his father's current wife, and the youngest. She is shy and meek; nothing like the other two sisters. She looks up to Souji, but is too self-conscious to say anything to him. Souji is the most brotherly with Harumi.
Outside this odd family is Yokako. She is Souji's first friend at school, and is the sole member of the Intelligence Committee. She is very outgoing and upbeat, and latches onto Souji, despite his dour attitude. She is investigating the murders that have occurred at school, and has a personal interest in the last one. She drags Souji into helping her, and after learning some of the facts, he finds himself pulled in further.
The mystery of the murdered students is just one part of the story. They do appear to be connected to Souji. Each murdered person could have been a competitor to Souji; a track star, a smart student, the class president. This makes Youko and Saki look good as suspects, especially with their behavior near the end, but they also appear too obvious. It's difficult to pick up what's a red herring at this point.
The other mystery of this title seems to be about Souji and the Kushiki family. Souji doesn't trust his full sister Youko. He doesn't believe she is the real Youko. And even though he believes he has seen his older brother Kazushi walking around town, Youko takes him to a building on the family land where Kazushi is imprisoned. The question of dopplegangers seems to be brought, as does the fact that Souji is missing some of his memories, a fact that both Youko and Kazushi bring up along with dropping a potential bombshell on the last page. Yokako posits an interesting thought as well. The world they are living in now is really a dream world/land of dead, but no one knows it. It's a bit of a Matrix reference, but it's also something I can almost see, in relation to the visuals.
Amnesia Labyrinth is a strange but intriguing title. It has several disturbing moments which to me makes it deserving of its older teen rating. Youko comes off as borderline psycho, and all the incest that treated almost matter-of-factly would make me think twice about giving this title to anyone under 16. But the mystery of the murders and the truth behind the Kushiki family has me intrigued enough that I will check out the second volume to see where things go.