For five years, Eren Yeager has nursed a grudge against the Titans. Now he's about to enter junior high with these massive creatures as classmates, and he won't let his chance for revenge go to waste! Watch as your favorite trainees take on the Titans…in class, music club and dodgeball!
Attack on Titan Junior High Volume 1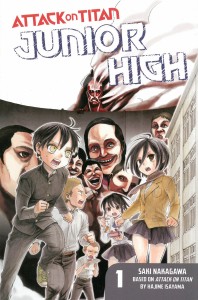 By Saki Nakagawa
Publisher: Kodansha Comics
Age Rating: Older Teen
Genre: Comedy
Price: $16.99
Attack on Titan has had a lot of spin-off titles. Some have been serious, like No Regrets and Before the Fall, adding to the mythos of the world. Junior High is not that kind of spin-off. Following a trend that seems to have become popular, it takes the characters from the main series and drops them into a high school setting so the hilarity can ensue. It is an irreverent take that is meant to be funny, but is more hit and miss with its humor.