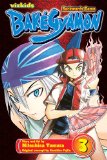 BakéGyamon Volume 3

By Mitsuhisa Tamura
Publisher: Viz Media/Vizkids
Age Rating: All Ages (8+)
Genre: Game
Price: $7.99
Rating:





The battle begins in earnest as the final 32 contestants are paired up tournament-style.  With the playing field a mock Tokyo Tower, there's only one way to go…up!  Sanshiro will now have to use his battle skills against the very people he wants to befriend!
This volume falls into the tournament style of fighting that most shonen titles eventually get to.  But unlike those shonen titles that become tired and uninteresting in their constant need to power up, this volume doesn't fall into that trap.  Sanshiro remains true to himself, and while his goal is now to win the game, he won't sacrifice his monsters or having fun to do it.