Once a loner, Hikari "Picasso" Hamura has helped so many people that he finds himself surrounded by friends! Picasso's going to need them as he faces his most difficult "portrait" yet. It's easy to deal with other people's problems. But it's another story when you have to face your own…
Genkaku Picasso Volume 2-3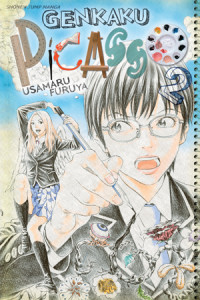 By Usamaru Furuya
Publisher: Viz Media
Age Rating: Older Teen
Genre: Supernatural/Mystery
Price: $9.99
Rating:





Back when I read volume 1 of Genkaku Picasso for the Usamaru Furuya Movable Manga Feast, I said I was definitely going to be picking up the last two volumes, which I did, but didn't get around to reading. Have I mentioned I can be a bit of hoarder when it comes to books? Anyway, I finally decided to read the final volumes, and I am really glad I did. The classmates they help and the problems they deal with are both timely and poignant. The final volume has one of the best twists I've ever read in a book, and just elevates this series to a whole 'nother level.