As the much-anticipated Yaza Arts fashion show gears up, an unexpected visitor from George's past makes an appearance. Yukari's modeling career heats up just as George makes an announcement that shocks the ParaKiss group to the core. George is hearing the siren call of the City of Lights, but where does that leave Yukari? Will she find the key to Paradise?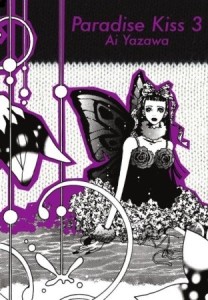 By Ai Yazawa
Publisher: Vertical Inc.
Age Rating: Older Teen
Genre: Fashion
Price: $19.95
Rating:





In this final volume of Paradise Kiss, fashion takes a back seat to all the relationship drama that is going on. George and Yukari's relationship remain turbulent and with the introduction of Kaori Aso, an important female friend of George's, things just go to an 8 on the Richter scale. The reason behind the complex relationship between Miwako, Arashi and Tokumori is finally revealed, as is Isabelle's past. The series ends with everyone having to make choices about their future, the biggest in question being George and Yukari's; do they have one together?
While fashion was a backdrop, the focus of this series has always been on George and Yukari, and with the fashion over, that focus just intensifies. Yukari, who wants to be the center of George's universe gets booted out of the limelight as Kaori Aso, a close friend of George's, comes back to Japan to see the fashion show, but more importantly, to try to convince George to continue designing. Yukari gets a lot of shocks during this meeting, as she learns George has shared many things with Kaori that he didn't with her. The realization she comes to from this is harsh but true; she more of a dress-up doll for George than an equal partner in their relationship. I was disappointed when even after realizing this, she was still willing to go along as long as she was with him. I really expected better from Yukari.
The Miwako-Arashi-Tokumori relationship finally gets some attention in this last third as the root of Arashi's jealously is revealed to both Arashi and the audience. Tokumori is a great character, the only real voice of reason in all the madness. Even though he has been Arashi's rival for Miwako, he gives Arashi the pep talk he needs to accept Miwako's feelings. Their talk is one of my favorite scenes of the volume. I also really enjoyed finally seeing more of Isabelle outside of the atelier, and seeing how she became the person she is now.
The big question of the volume, and really the whole series, is, will Yukari and George stay together? Yukari and George are fine together as friends. Yukari was a muse for George, inspiring him to create some great things. George also helped Yukari get out of her rut of being a student and find something she could enjoy and be passionate about. But as a couple, I never liked them together. They didn't fit well for me. There was a lot of passion, both in their feelings and their interests, but I didn't feel any love between them. If Yukari were to follow George, I think she would suffocate in that relationship, and George wouldn't really be happy with Yukari not taking advantage of her full potential. The way Yazawa ended the story was just right. Everyone ends up with just who they should.
Paradise Kiss is a great story filled with rich and colorful characters. It's fashions are outrageous but fun, and the drama of the relationships are a bit over the top, but just realistic enough to ring true. This is a series that should not be passed up, especially since readers have been given a second chance with it. Do regret not picking it up. This title is a Buy It Now.