Protecting Haruka from Ex Solid has gotten Mamoru involved in an even more sinister plot, organized by the terrorist group known as the Plunderers. The swordsman's reckless tactics generate results, but they have also attracted the attention of the terrorists' leader, Edge Turus. Mamoru's allies in the Wall and the very people who hired him begin to fear that Mamoru's methods are too extreme and could endanger those around him, including Haruka herself. Meanwhile, the police are connecting the dots between Haruka's abduction and the recent string of attacks. As they and Edge close in, it may only be a matter of time before Mamoru has nowhere to run!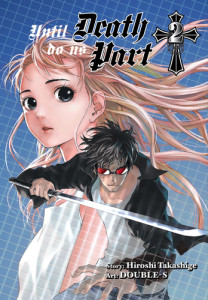 Written by Hiroshi Takashige; Illustrated by Double-S
Publisher: Yen Press
Age Rating: Older Teen
Genre: Action
Price: $18.99
Rating:





The African country of Galboa is revealed to be the force behind the terrorist acts, and through some intel from Ex-Solid and discover Haruka's ability. The leader, Edge Turus decides he wants her as well. Mamoru does his stuff, stopping Ex-Solid and their cloning operation as well as Turus, cutting off his arm in the process, which makes him none too happy. He puts a contract out on Mamoru. In the meantime, Mamoru officially becomes Haruka's bodyguard and Sierra, the female agent that's been helping them, decides to stay with him and Igawa, so Haruka will have a female influence. Haruka gets a fake id and to go to school, but a new enemy shows up, an invisible one that Mamoru must try to figure out how to defeat.
I wasn't impressed with the first volume, though I did like the "Global Frequency" vibe that it initially had. This volume had none of that. It was a lot of Mamoru being awesome with his sword and Haruka fretting over him. I'm okay with the Mamoru being awesome part, but really for the most part, I don't care about any of these characters or what happens to them. I'm not too thrilled with "The Wall" suddenly deciding to turn on Mamoru for doing just what they pay him to do; get past the bad guys and get them results. That's all he and Igawa have done. They keep dwelling on what could be instead of keeping what they have now.
An explanation is given for Haruka's powers, and I'm actually okay with it. It's still mixed up with some techo-babble, but as long as it sounds plausible, I'm good. I actually liked the "invisible" enemy that Mamoru has to take on. It actually becomes timely with some of the news that's been going up lately, and puts Mamoru's skills to the test.
I'll still read the third volume, but more for "Can this get better?" than "I like it!" There is still a lot I don't care for such as Haruka as the female protagonist and all the upskirt shots that get thrown in, mostly with Sierra. It's run for 19 volumes in Japan so far, and is still ongoing, so it's got to have something going for it. Maybe if I keep reading, someday I'll find it.
Review copy provided by publisher.