Inspired by the Japanese thriller, these pages hold the macabre tales of a mother's psychological torment in a rundown apartment complex, another man's terror upon the open sea, and a message from a watery grave. A haunting will begin, and these people will learn that no one is safe from the mysteries that lie within the murky depths of Dark Water.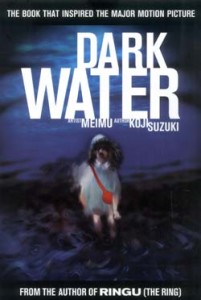 Written by Koji Suzuki; Art by Meimu
Publisher: Dark Horse
Age Rating: Teen
Genre: Horror
Price: $9.99
Rating:





I picked up Dark Water, expecting another single story adaptation of a novel by Koji Suzuki. This impression is really emphasized by the cover text that claims it's the book that inspired the "major motion picture." So I was really surprised when I discovered it was only the first story of four that "inspired" the movie. A movie that was decent, and didn't need a Hollywood adaptation that couldn't improve on it any.
I was actually kind of disappointed when I discovered that Dark Water was just a short story, and not a full novel like The Ring. I really enjoyed the manga adaptation of that novel, and was hoping for another experience like that. While "Dark Water" was a tighter read, it wasn't as interesting or scary as the longer movie. It really needed more disturbing moments to make what happened hit home. It's not a bad story, but a few more scenes could have made it better.
Of the remaining three stories, the only one with a good "creepy" factor was "Island Cruise". It did a good job of balancing the supernatural with the non-believer, who must hold on to his non-belief at all costs, or be literally dragged down into the water. "Adrift" was the shortest and left me scratching my head about what happens in it. I've read it several times now, and while I think I get the idea Suzuki was trying to get across, it was lost in the manga adaptation. "Forest Beneath the Waves" really doesn't have anything dark or scary about it. It's a story about a son connecting to a father he never knew through the place where the father died. This story really doesn't seem to fit in a volume that is otherwise filled with menaces coming from the water.
Dark Water isn't a title that will keep you up at night or make you wary of taking a bath. It's isn't dark so much as it is murky. It wants to drag you to the bottom, but instead ends up losing its way. I really can't recommend this book to anyone but Koji Suzuki fans.