"On the Sixth Day of Christmas, my true love gave to me, a Six Girl Volleyball Team,"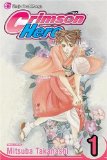 Tomboy Nobara Sumiyoshi has one passion in life; Volleyball.  Her mother, however, wants her to be the girlish hostess of the family's ryotei (Old fashion Japanese restaurant).  Nobara runs away from home to try and fulfill her dream, but her mother tries to stop her, going so far as to try and force Nobara's younger sister to take Nobara's place.  The three make a deal; Nobara will play Volleyball until she graduates, when she will take over the ryotei, until then her younger siste will help out.  In the meantime, Nobara has to bring back the Girl's Volleyball team at her chosen High School, Crimson High, and get the minimum required 6 girls to form a competitive team, all while playing dorm mother to the Boy's Volleyball team.
This is another series I found through Shojo Beat.  I wouldn't be reading shojo manga if it wasn't for Shojo Beat. I didn't really like this title at first.  I'm not much for sports, and all the romantic drama that was thrown out at first didn't really interest me.  It wasn't until the title got into some serious drama around Nobara trying to improve her playing that I started showing some interest.  While I'm not a Volleyball fan, the development of the Girl's team and the characters that make it up make for some good dynamics.  They have lofty goals, but show to have the determination to reach them.  It's a title to definitely look at for good sports drama and melodramatic romance.
"Five Bronze Knights!
Four Friends in Winter
Three Sibling Cards
Two Girls named Nana
And a One Piece for the Pirate King."