I asked for it and I got it!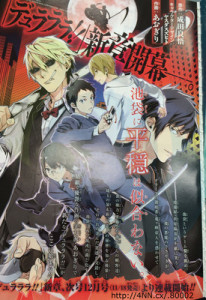 With the end of the "Yellow Scarves Arc" manga in Japan, I recently lamented that with no new announcement, there weren't any more DRR manga to look forward to. Square Enix fixed that as they announced a new DRR title would be starting in the December issue of GFantasy Magazine. The series will get a new artist Aogiri. It will continue to chronicle the adventures of our favorite characters in our favorite area of Tokyo, Ikebukuro. The ward is thrown into chaos again with authority from shady places, assassins from overseas, delinquents from Saitama and a underclassman who knows Mikado's secret. All the while Izaya Orihara watches over the chaos, laughing.
I really hope this is an adaptation of the 4th light novel. I can't tell, but if Square Enix continues to follow suit, then it should be. I'm also not so sure about the change in artists. I really like Akiyo Satorigi's work in the last three series'. But, at least he gets on last hurrah, as GFantasy as also announced that Satorigi will be doing a special chapter also in the December issue. This one shot is tentatively titled "Durarara!! Gaiden" and occurs right after the end of the "Yellow Scarves Arc".
I'm really happy that Square Enix is keeping this series going.  And until the light novels are licenses, I hope Yen Press continues to get the manga. Getting both would be a real boon!