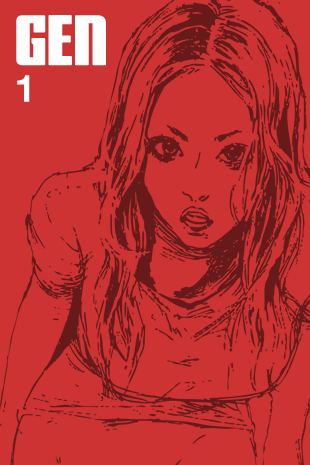 Gen is a new monthly manga magazine that is an experiment in many ways. It doesn't go through any of the big publishers, or have any big mangaka as a draw. The manga serialized in Gen comes direct from the artists and would fit more in the category of doujinshi, or fan created manga. But this isn't doujinshi as it is usually thought of in the US, parodies, or porn. These are serious, original stories and characters written for older readers, or seinen. Gen debuted with 4 titles in a variety of genres. "Wolf" is a sports manga featuring boxing. "VS Aliens" is a high school mystery. "Kamen" is a fantasy-drama and "Souls" is supernatural mystery.
Of the four stories, I have to say I enjoyed most of them. "Wolf" didn't interest me too much at first. The main character Naoto is just a bundle of anger, trying to beat his father with one kind of punch, while his father, a former pro boxer doesn't really seem to care about the wife and son he left to pursue his boxing career. There was too much anger, not enough plot. The last chapter in issue 3 showed some improvement. I was slow to warm up to "VS Aliens" as well. The characters seemed very bland, and took a while for the plot to build. As of issue 3, I'm still not completely sure where the story is going, but it's intrigued me enough to want to keep reading.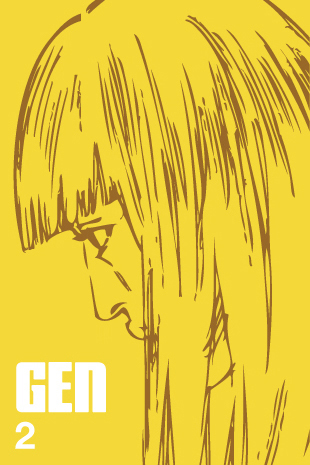 I was pulled in by "Kamen" immediately. It has a Guin Saga feel with a man waking up with no memory and mask on his face, and the quasi-historical/fantasy setting. So far we know the things the masked man can't do. I just waiting to see what he can do. "Souls" also interested me from the beginning. I love stories with the wandering stranger attracted to the supernatural, and the twists that always happen. "Souls" is no different. I also like how the story deals directly with people's souls. Not the souls of the dead, or ghosts, the souls of the living. "Souls" first story is complete in these three issues.
The art of the stories is a varied as their genres. None of it is done badly, but there's nothing really spectacular about it either. All of the art is realistically rendered. "VS Aliens" art felt meh to me, as did "Wolf". "Kamen" and "Souls" suited their stories well, though Souls had some rough patches. I liked "Kamen" the best.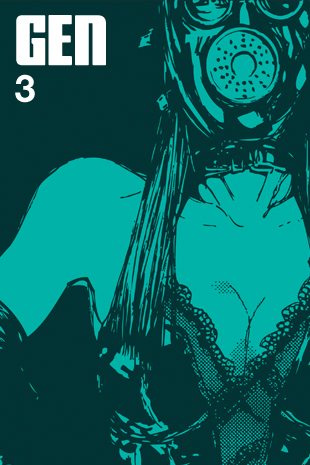 Gen is off to a great start as an anthology magazine that introduces stories and artists that aren't super-big hits. The magazine is available both digitally and in print. The digital price really can't be beat though. It's $1.99 a month for a monthly subscription which includes DRM-free downloads and access to all issues, not just the starting issue of your subscription. They are, as of this writing, up to 6 issues, which added three new titles, and saw the completion of one, "VS Aliens". Gen has all things going needed to be a success; entertaining stories, good price point and easy access for everyone. If you are a fan of manga, definitely check this magazine out. I highly recommend it.