While we here at Manga Village do enjoy Takehiko Inoue, it seems his shonen title Slam Dunk has been our favorite. Starting with volume 1, Katherine Farmar had reservations at first, but had this to say about
it:
Slam Dunk pokes fun at Hanamichi relentlessly, but it is at its core a solid and very well-done example of the genre rather than a subversion of it. Hanamichi's error is not in reaching for the top but in expecting to get there without working for it
Justin Colussy-Estes read volume 4, and though he thought he didn't like it at first, another reading and some thought brought him to this conclusion:
But in Slam Dunk, Inoue turns that on its head: he puts manga in a basketball context. Understand this, Inoue isn't interested in telling the same stories found in every shonen manga for the last thirty years. No, he's interested in basketball
Matthew Rozier is in agreement with Justin after reading volume 5, when he says it's basketball that really sells the series, and the art really helps it:
Despite being still images, they exude such a sense of vivacity that it almost feels like being at an actual game. It makes one want to cheer out loud for Shohoku as the exhilarating panels fly by.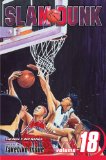 Lori Henderson picked up the series at volume 11 and could see Inoue's love of basketball as well, and how he conveys it in his art:
Most sports manga aren't about the sports they feature, but you can't really say that about Slam Dunk. You can tell Takehiko knows the game as he draws some great moments. The signature move that the series is named after gets some really dynamic shots. Every thing about the game is so real, you almost feel as out of breath as the players.
In a short review of volume 18, Lori also felt the emotional impact of the sport:
I guess it's really to Takehiko's credit that I felt so much frustration reading this volume. It's not frustration with the story though. It more a sympathetic frustration I felt with Shohoku, as they get routed at every turn by Ryonan.
The consensus throughout all the reviews though is that Slam Dunk is a great series. It emphasizes the sport, but not in a way as to alienate the non-basketball, or sport interested. It's got action, drama and is a whole lot of fun!