The Manga Village reviewers have covered a lot of manga over the years, and Naoki Urasawa and his titles are no different. It is interesting to note which titles are reviewers chose to review for the site. You'll notice a lot of 20th Century Boys and Pluto, and a strange absence of this first big title here in the US, Monster. It could just be a case of choosing the new and shiny over an older series. Let's take a look at what our reviewers have said about Urasawa's titles over the last 5 years.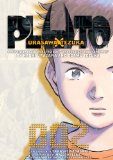 Charles Tan was one of the founding reviewers for the site. While some of his reviews have been lost over site moves, some of his feelings could still be dug up. He summed up Volume 1 of 20th Century Boys as:
Complex and intricate but that's not necessarily a bad thing. Has the same vibe as Old Boy and Monster.
For the 1st volume of Pluto he said:
Revitalizing Astro Boy for an adult audience.
Not all of his reviews were lost. In his review of Volume 2 of Pluto he tackled the sci-fi elements of the series:
There's an old school science fiction flavor to it thanks to its reliance on the Asimovian Laws of Robotics and this is the venue where Urasawa tackles a different kind of philosophy. It isn't particularly original but the presentation is impressive and keeps readers interested.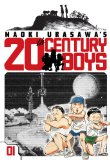 John Thomas, another of our original reviewers, looked at the first volume of 20th Century Boys, commenting on Urasawa's story telling skills:
This is nothing short if an amazing introduction to an epic and expansive series. What is most incredible is Urasawa's ability to switch between the past, present, and (in a few pages) the future so seamlessly. Simpler tales in other manga can sometimes seem convoluted, and this is where Urasawa's true genius as a story-teller comes through.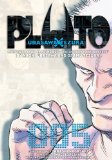 Matthew Rozier was a reviewer for only a short time, but still managed to get in reviews of 3 Urasawa volumes. He also comments on Urasawa's story telling skills in his review of Volume 4 of 20th Century Boys where he says:
He knows full well how to keep a reader on the edge of their seat with revelation after revelation, all while layering even more onto this already complex plot to keep everyone guessing.
In his review of volume 5 of 20th Century Boys he continues to be impressed with Urasawa's story telling:
…Urasawa continues to prove his storytelling prowess all the same with another very good volume. Volume 5 answers some questions while bringing to light many more, bring the series to a significant turning point.
And again in his review of Pluto Volume 5 he says:
Urasawa certainly flaunts his storytelling prowess here, he proves that he can do heart-pumping action, while still deftly handing Uran and Dr. Tenma having to cope with Atom's death.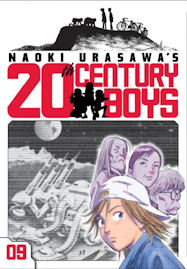 Alex Hoffman reviewed volumes 8-9 of 20th Century Boys and had mixed feelings about the series at that point:
It is hard to find bad things to say about Urasawa, but it is worth mentioning that 20th Century Boys is not as gripping a tale for me as was his earlier series, Monster.
But he finishes up his review by saying:
There is no reason to not be reading 20th Century Boys; it is a solid thriller backed with a well-constructed dystopian framework, and with the 9th volume ending in such an interesting direction, it is possible that the series could get a lot weirder very quickly.
It's obvious that all our reviewers enjoy Urasawa's suspenseful writing skills, even if they aren't always convinced of his ability to hold a story together over time. Check out the links to see the full reviews of the titles by "Japan's Master of Suspense."