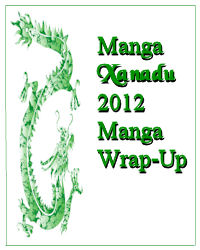 January has come and gone, and I have completed my next series. Chibi Vampire was one of Tokyopop's moderate successes. At least it usually hit the top 10 when a new volume came out. I originally picked it up because I liked the premise; a vampire that gave blood instead of taking it. I read the first 7 volumes and then got distracted. Volume 7 was the end of an arc, so it was at least a good place to stop.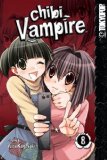 Volume 8 starts a new arc, focusing the vampires of Japan and the truth behind Karin's blood loss. The story continues with the lightness of the last previous volumes. Karin and Kenta have worked out their issues and are trying to be a normal High School couple. But the appearance of a half human/half vampire, and Anju's early awakening throw more emotional obstacles in their path. Still they find a way to keep going. Finally, the truth behind Karin's blood loss is revealed and she is kidnapped by another vampire clan, prompting the Markers and Kenta to work together to get Karin back safe.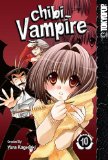 Chibi Vampire gets to join the growing list of titles that has brought me to tears. Karin and Kenta's relationship continues to have its ups and downs, with misunderstandings causing most of them. But now that they've confessed their feelings for each other, they aren't as big, or last as long. The story of the vampires and their plight is the more compelling part of this arc. In these back volumes we learn why the vampires left Europe and how they arrived in Japan. We also see how James and Elda got together and Caldera's family. I liked how things set up in earlier volumes do return and become important in these later volumes. The lack of vampire children is only mentioned in volume 5, but then becomes the reason for so much more.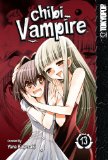 I absolutely love all the other characters in this series. They are fun and funny most of the time. But when things get serious, they really know how to get down to business. Henry, who seems to be a buffoon as he is dominated by his wife Caldera and such a doting father becomes a serious threat after Karin is taken. He is ready to give up everything, including his life to get Karin back. Everyone in Karin's family is ready and willing do anything to protect her. Anju, her younger sister, fights sleeping during the day to use her bats to watch over her. Even Caldera, her domineering mother and Ren, her playboy older brother, both of who seem more annoyed with Karin are ready to fight to get her back. That's what makes the end of this series so heartbreaking.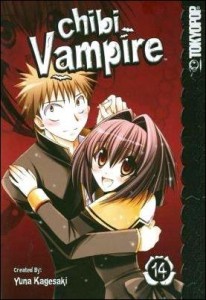 I'm really glad I didn't read the last volume at work. I hate trying to explain to co-workers why I'm crying over essentially a comic book. But dammit, the twist at the end of this series, I SO WASN'T expecting it and it got me straight in the heart. And that's one of the things that makes this such a good series. You get to know the characters so well, that anything that happens to them affects you as well. Even though what happened may have been in Karin's best interest, it was so hard to see. I think Tokyopop really did this series a disservice by changing its name. It was originally called Karin, and should have stayed that way. It was all about her. The story was done well enough that I think it would have done just as well without the gimmicky name that really had nothing to do with the story.
I was going to donate this title to my local library, but now I'm not so sure. I really enjoyed it, quirky characters and all. It really hit an emotional bone in me. I may have to rethink things. Since I burned through these volumes so fast, I then read the last two volumes of Zombie Loan. It left me scratching my head, wondering where that ending came from. The story takes a serious left turn at the end, though maybe it wouldn't be as confusing if I'd read volumes 3-8, but somehow I don't think so. Full review to follow soon.
I'm not sure what I'm going to read next. Looking at my review pile, I'm thinking it might be a good idea to get through some of those first before going back to my full series catch ups. I do try to balance not only between personal and review books, but also between publishers. I'm looking at doing some more Viz, as Yen and Vertical have been getting the lion's share of dedicated reviews. Check back next week to see what I decide on.
Chibi Vampire 8-14
Zombie Loan 12-13