As Kyousuke and Tena go about their contentious daily lives in Japan, they're blissfully ignorant that something's afoot at the tuner headquarters in France. And whatever it is, it's starting to make the world a much more dangerous place for Kyousuke with his sought-after soul score! Though he's managed to avoid detection by other tuners, like Arun, thanks to the gadget bestowed upon him by Mezzo and Sopra, it's not long before his good luck charm runs out, landing him in a whole mess of trouble with tuners he's never seen before! Will Tena be able to save him from a life as a tuner test subject, or will Tena need saving too!?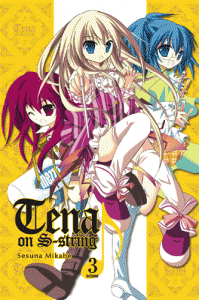 By Sesuna Mikabe
Publisher: Yen Press
Age Rating: Older Teen
Genre: Fantasy/Romantic Comedy
Price: $10.99
Rating:





This volume is a marked improvement over the last one. There is a lot less emphasis on Tena, and more attention given to the  Tuner plot and Kyousuke.
The focus of this volume is on Kyousuke. His musical abilities goes beyond technical skill. He can read people and see what kind of music they may need. When he, Tena and his students go to a hospital for some musical therapy for the patients, Kyousuke changes Tena carefully planned mellow score to a more upbeat one, cheering the patients up rather than just entertaining them. More is revealed about Kyousuke and his "viral" notes as well. As expected, he loses the ring that Mezza gave him to hide his viral notes. He soon learns though, that he has a tuner power like Tena. He is a Life Tuner. He can drastically change a life score, not just adjust it as most tuners do. Somewhere in his past, his power was suppressed. Now, Kyousuke wants to find out about his power more than ever.
The Tuners and their "grand finale" plot is on the most as well. More of the High Command of the tuners is revealed, but there was still very little information given on what is going on. Why are tuners needed all over the world WITHOUT knowing anything other than notes need to be captured? There is a very conspiratory feel to this plot. The High Command is planning something the rank and file know nothing of. The tidbits of information leaked in this volume only adds to my curiosity.
Kyousuke gains a harem of sorts, with many of the women seeming to have a relationship with the higher-ups. We already know about Arun being the sister of Lord Chord, but in this volume we learn that Mezza has a sister who is the head of covert ops for the tuners, and has been spying on Mezza. Arun's connections come in handy though, when the group has to leave Japan, and head to France.
The biggest problem with this volume is again Tena. She is jealous of "elites" like Arun and hates them all. She has a serious chip on her shoulder against them for some reason. She throws a tantrum when Arun is impressed with Kyousuke's ability to make good food on a budget. She came real close to giving Kyousuke up to some tuners that found him in exchange for the recognition she would get from the higher-ups. It was just another reason to NOT like her.
Overall, this was a better volume of Tena on S-String with more story and less Tena being a brat. Arun is still more interesting and makes a better lead to Tena as far as I'm concerned. I am curious to find out more about Kyousuke's power and past, so I will give this series one more volume.