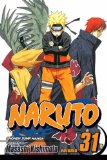 Naruto Volume 31

By Masashi Kishimoto
Publisher: Viz Media
Age Rating: Teen
Genre: Action
Price: $7.95
Rating:





Naruto and his fellow ninja engage in deadly conflict with the enemy.  If any of them makes the wrong decision, it could be one of Naruto's closest friends who pays the ultimate price.
This volume finishes up the rescue of Gaara arc started back in volume 28.  Granny Chiyo and Sakura are fighting Sasori of the Red Sand, and Granny Chiyo's grandson.  Meanwhile Naruto and Kakashi are chasing Deidara to get Gaara back.  Kakashi uses his Sharigan eye to get Deidara to drop Gaara, and then his new technique when Deidara tries to blow everyone up.  But is there any chance of saving Gaara?