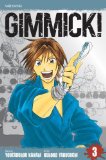 Gimmick! Volume 3

By: Youzaburou Kanari & Kuroko Yabuguchi
Publisher: Viz Media
Genre: Action
Age Rating: T+ (Older Teens)
Price: $9.99
ISBN: 1-4215-1780-9
Rating:





Gimmick! is the story of Kohei Nagase, an up-and-coming young makeup and special effects artist who loves his work and is capable of amazingly intricate work.  If you ever saw the movie F/X, starring Bryan Brown and Brian Dennehy, you get the idea.  If you didn't see it, go out, rent the movie and watch it right now.  Go.  I'll wait.
This volume finishes the "Over the Rainbow" story started in the last volume, plus most of a second story, "TB Confidential" and a one-shot.  There aren't any spectacular reveals in "Over the Rainbow", it's obvious it was simply room that prevented it from being printed in the previous volume and it's a bit disappointing to have waited a couple of months for what is essentially wrap-up.  At least this time, "TB Confidential" ended on a cliffhanger, but I can't help wondering why they didn't just put the complete story into this volume and move the one-shot elsewhere?