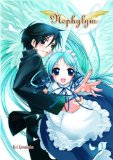 Nephylym Volume 1

By Rei Kusakabe
Publisher: DR Masters
Age Rating: 13+
Genre: Supernatural
Price: $9.95
Rating:





Shun has a unique power to electrically charge metal materials.  A mysterious winged being named Ale picks up on his powers and chooses him to be her partner.  Shun's classmate and school crush, Sanari, finds out and reveals her winged partner, named Blissful.  She explains that the beings are called Nephylym, and their chosen partners are called Answerers.  Together with Sarari and Tsukasa (Shun's rival in love and an Answerer as well), they battle along side their Nephylym against Noirs that possess human beings.
I can't remember the last time I read a volume that was so lackluster.  The story and characters are just cookie cutter cutouts of typical shonen action fare with some moe and moments of fanservice to draw in a audience that will hopefully be too enthralled by the cute little girls to notice the complete lack of a decent story.