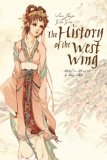 The History of the West Wing

Written by: Sun Jiayu; Illustrated by Guo Guo
Age Rating: Teen
Genre: Romance
Price: $12.99
Rating:





Lavishly illustrated in full color and based on the classic Chinese play Xixiang Ji by Wang Shifu, The History of the West Wings tells of the illicit romance between the daughter of a Chinese Government Official and the roaming scholar who seeks to win her hand.  But before he can turn his attentions to his ladylove, the young man must win the heart of her mother! When it seems even heroic deeds in the face of murderous bandits will not please the strict matriarch, the young man goes off to become a civil servant.  Will he return in time to marry his true love?
With a description like that, you'd expect a story filled with drama and romance.  Too bad this book provides doesn't live up to it.  It opens with an introduction that explains the history of XiXiang Ji and its significance to Chinese culture and literature.  It is a play written in the 1200's and is based on an earlier fable that tells of the romantic setbacks of a girl that gives herself to a roaming student.  A character in the story, the girl's servant, Hong Nianging, worked so hard to get the two together, that her name came to mean "matchmaker" in Chinese culture.  Reading the story after this buildup is a real let down.