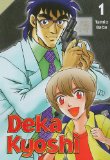 Deka Kyoshi Volume 1

By Tamio Baba
Publisher: CMX
Age Rating: Teen Plus
Genre: Drama/Suspense
Price: $9.99
Rating:





Toyama, a tall and beefy detective, goes undercover as a fifth-grade teacher.  The previous teacher was discovered on the ground outside of her condo and rumors say she jumped…or was she pushed?  Toyama is determined to get to the bottom of this mystery, but it seems like he has a more pressing task at hand: his rowdy students.  One student, Makoto is a little strange and his eccentricities make him a prime target for bullies.  Makoto can actually see the demons inside people, which manifest themselves as visions of horrible monsters.  Will this strange student be able to help Toyama?
Sounding more like a take off of Kindergarten Cop, Deka Kyoshi is actually a title that looks at serious issues that kids are facing everyday.  It presents them in an interesting and unusual way, but CMX's overly-conservative age rating of the book may keep it from reaching the audience it is meant and most appropriate for.