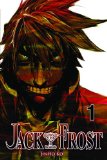 Jack Frost Volume 1

By JinHo Ko
Publisher: Yen Press
Age Rating: Older Teen
Genre: Horror
Price: $10.99
Rating:





Any high schooler on a nerve-wracking first day at a new school is apt to lose his or her head a little.  But in Noh-A's case, she literally does!  When she wakes up in one piece with a little help from a mysterious doctor, Noh-A quickly realizes that nothing is as it seems at Amityville High, where paranormal creatures battle for supremacy.  Caught in the crossfire, Noh-A may have to rely on the unlikely (and possibly unreliable) aid of the most sinister student at Amityville…the deadly Jack Frost!
By all outward appearances, this title looks to be a pale shadow of the horror manga Hellsing.  Cracking open the book doesn't do much to alter that appearance.  There is lots of action and decapitation, but not much in actual plot.