Out in the middle of Tokyo Bay, a man called Shogun is trying to break out of Umihotaru Prison, a maximum-security island fortress, so he can save the world. Accompanied by a frightened young manga artist, these two men are prepared to risk everything as their daring escape plan grows deadlier by the minute. However, the prison authorities will do whatever it takes to return Shogun and his reluctant companion to custody.
Shogun's ultimate goal: Tokyo, where a girl he calls the "final hope" lives, but a murder in Kabuki-cho has triggered a chain reaction of terror. Can Shogun reveal the truth about the false peace created by the Friends? And what are the facts behind the disaster that took place in the final moments of the 20th century?!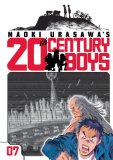 20th Century Boys Volume 7

By Naoki Urasawa
Publisher: Viz Media
Age Rating: Teen Plus
Genre: Drama/Mystery
Price: $12.99
Rating:





What happened December 31, 1999?  The events of that night start to unfold as both Shogun and Kami tell the tale to two young people who want to know the truth.  But will learning these facts bring us any closer to the truth?  Once again, Urasawa poses more questions than he answers in this volume.  Why are the Friends rebuilding the 1970 Exhibition?  What exactly happened on December 31, 1999?  Even as we delve further into those events, answers are not forthcoming.