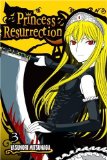 Princess Resurrection Volume 3

By Yasunori Mitsunaga
Publisher: Del Rey Manga
Age Rating: 16+
Genre: Supernatural
Price: $10.95
Rating:





Mummies, vampires, and a ghost ship: a typical day in the life of Princess Hime, monster slayer extraordinaire.  But when her kid sister visits, Princess Hime may have finally met her match.  Now she's facing her toughest battle of all: sibling warfare!
The campiness we saw in the first two volumes of this series starts to get toned down in the third.  The fight between Hime and her brothers goes past simply sending hordes of monsters to something more serious.  It's not going to be all fun and games from here on out.  It's too bad the fan service doesn't also take a hike.