Going home for his grandfather's funeral, thirty-year-old bachelor Daikichi is floored to discover that the old man had an illegitimate child with a younger lover! The rest of his family is equally shocked and embarrassed by this surprise development, and not one of them wants anything to do with the silent little girl, Rin. In a fit of angry spontaneity, Daikichi decides to take her in himself! But will living with this overgrown teenager of man help Rin come out of her shell? And hang on, won't this turn of events spell doom for Daikichi's love life?!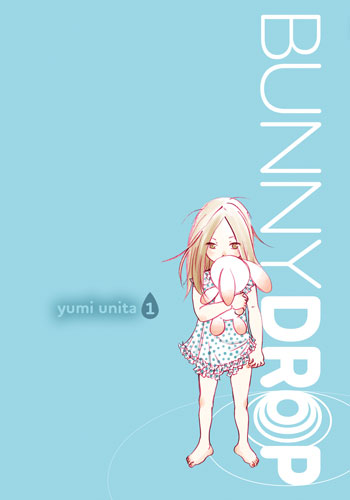 By Yumi Unita
Publisher: Yen Press
Age Rating: 16+
Genre: Drama
Price: $12.99
Rating:






Buy This Book
When I first heard about this title, I didn't think it would appeal to me. But, after seeing so many comments recommending it, I decided to give it a chance, and I'm glad I did. Bunny Drop turned out to be a well written story with engaging characters that evolve over the course of this first volume.
Bunny Drop looks at the lives of two people. Daikichi is a 30-year-old bachelor. He is the section chief at a clothing manufacturer, so he works longs shifts and has no social life, or prospects of one anytime soon. Rin is a quiet 5-year-old girl. She is shy around other adults, and is the daughter of Daikichi's 80-year-old grandfather, essentially making Rin Daikichi's aunt. At Daikichi's grandfather's funeral, his family is arguing over who should take in Rin, as no one knows who the mother is. Daikichi, disgusted by their attempts to push the child off onto each other, impulsively decides to take her in himself. Here is where the story really starts.
In order to properly care for Rin, Daikichi's whole life has to change. He can no long live the life of a bachelor, working until late into the night, and leaving his porn magazines around. He has to keep the apartment relatively clean, learn to shop for Rin, find her daycare, and even transfer to another department at his job to get lesser hours. But the changes he experiences aren't just external. Internally, he is changing as well. In order to care for Rin, his whole way of thinking has to change. He needs to think more like a parent. Slowly, he begins to understand Rin and her needs, such as helping her deal with the concept of death, and that he's not going to die so soon as her father/his grandfather did. Helping Rin also makes him look at his life and health, which starts him thinking about the future differently.
This was a fantastic story. I really enjoyed it a lot. It was very touching in a lot of ways, with the way Daikichi reaches out to Rin, not knowing what he is getting into, and really tries to care for her without overcompensating. The characters and story are rendered realistically, making the whole title believable. There's nothing weird or disturbing about the way the situation is presented. The changes in the characters occur gradually, naturally. Watching Daikichi's adjustments from bachelor to "Dad" are both amusing and touching. It's hard to put into words, but the whole volume just felt good to read.
The art suits the story very well. It's has a mostly realistic look to it, with some weird faces showing up, but these are just moments of exaggerated emotion and well within the range of reality.
I highly recommend Bunny Drop. It's a title that both men and women can enjoy and relate to. The characters are great and the situations have humor mostly because they are so true. Anyone who has had to get daycare on a moment's notice can really relate to Daikichi's predicaments. It's well written, well drawn, and just plain a pleasure to read.
Review copy provided by Publisher