Noh-A watches in fear as Omu strikes down Maru, the last offspring of the Unicorn. With the last obstacle removed and Jack fighting elsewhere in the forest, Omu seizes the Antler of the Unicorn. In an effort to snatch Noh-A's immortality for himself, Omu plunges the antler deep into her chest. But as the sharp horn pierces her heart, Noh-A is greeted not by Death, but by life. Her real life–the life she had before she found herself in Amityville. Though she has longed to uncover the mystery of her forgotten past, nothing could have prepared Noh-A for what she sees…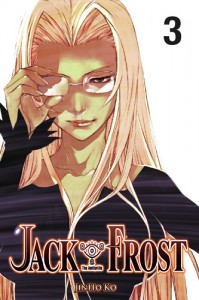 By JinHo Ko
Publisher: Yen Press
Age Rating: Older Teen
Genre: Horror
Price: $10.99
Rating:






Buy This Book
In a reverse of the first volume, there is more plot and less decapitation in this latest volume of Jack Frost. Noh-A finally learns the truth of her past. There are also glimpses shown of Jack's inner turmoil. Is he unable or unwilling to go to his rest? Then it's back to mindless destruction as the South District renews its attack on the North.
This volume picks up a battle left off in the last volume. During it, the purpose of the mirror image, or at least one of them, it is implied that there may be more, is revealed. But Omu thought would happen with his victory, doesn't so much. Instead Noh-A's power starts to awaken, releasing her past memories. She was followed by death since she was a child. Everyone around her, her family, friends, and even animals that she just interacts with end up dying. And just as an aside, why do cats always get the gruesome, on-screen deaths while dogs get the more merciful off-screen ones? Does this mean manga artists don't like cats or that they do? Either way, I'd really prefer not see either. Anyway, Noh-A's first awakening, again it's implied there will be more, restores balance between Amityville and the real world. This disaster is averted.
Jack is in his own battle with Ji Hoon, the former wearer of Jack's coat, which is made of the Devil Thread, and is what gives Jack so much of his power. During the battle Jack meets the Tailor of the Devil Thread, and seems so impressed by Jacks' blood lust that he gives Jack a power up so he can end the battle with Ji Hoon. During the encounter it's implied by the Tailor that it's Jack's blood lust that keeps him from resting, though after three volumes there is no indication where that blood lust comes from. I find the lack of motive bothersome. If there's no reason, then Jack becomes a very dull character.
With the resolution of Noh-A's awakening, the story moves on to introduce a new enemy from the South District. Siegfried is a computer genius. He attacks through others, and takes over Jin, who appears to be an android. Jin and Siegfried have a history. Jin left the South District and joined the North in order to kill him. Siegfried wants to kill Helmina, but then, who in Amityville's other districts doesn't? The volume ends with a cliffhanger and more mindless destruction to the North District.
I was hoping for an improvement with this volume, but unfortunately was denied. The revelations made throughout don't really explain anything. There are still far more questions than answers about Amityville and the Mirror Image, but unlike other titles, like from say Urasawa, there's no incentive to keep reading to get there. You might be curious about these things, but there's no burning need to know. Maybe because the characters are average. There's still nothing interesting about them, even after the glimpses at Noh-A and Jack's past. There is still plenty of fanservice with Noh-A and Helima though. Even in her dying moments in the real word, Noh-A can't get any dignity.
After two volumes, nothing has changed or improved in Jack Frost. It's still a barely average title with no discernible direction. The fighting is still just for the sake of fighting and give the manga creator a chance to draw some exciting action. The potential that the story may have had is getting washed away in all the fighting.