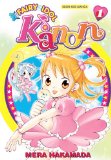 Fairy Idol Kanon Volume 1

By Mera Hakamada
Publisher: Udon Entertainment
Age Rating: All Ages
Genre: Magical Girl/Fantasy
Price: $7.99
Rating:





Can a regular girl become a superstar celebrity? Kanon is an ordinary fourth grader who loves to sing more than anything else. When a magical fairy princess named Alto meets Kanon and decides to help start her singing career, their journey to fame takes off! Friendship and magic combine in this cute musical story!
Fairy Idol Kanon is another title aimed directly at girls.  Singing, fashion, stardom and fairies all make this the perfect title for young girls.  Almost too perfect.  It's a safe story with all the messages that parents and teachers will love, while the girls will love the magic and bits of drama.