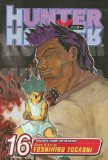 Hunter x Hunter Volume 16
, 17
, 18

By Yoshihiro Togashi
Publisher: Viz Media
Age Rating: Older Teen (16+)
Genre: Action
Price: $7.99
Rating:





These three volumes finish up the Greed Island arc (thankfully), though in retrospect it wasn't as bad as it could be.  Volume 16 continues "The Bomber" arc within Greed Island that was started in Volume 15.  Genthru and his team has 96 and only need 4 more to win the game.  Several teams of hunters, including Gon's gather to come up with a way to stop Genthru.  They decide to get a card no one else has and keep it from them.  By creating a team of 15 they can activate the quest.  After gathering the requisite number (including Hisoka), they reach the challenge of a killer dodgeball game.  Volume 17 finishes the game, and starts the war between Genthru's team and the winners of Plot of the Beach card.  There's more training for Gon and Killua while Tsezguerra's team buys them time to come up with a strategy to beat Genthru.  Volume 18 is the final three-on-three battle between Genthru's team and Gon's, and the end of the Green Island arc.