It was hate at first sight… rather a knee-to-the-head at first sight when Raku Ichijo meets Chitoge Kirisaki! Unfortunately, Raku's gangster father arranges a false love match with their rival's daughter, who just so happens to be Chitoge! However, Raku's searching for his childhood sweetheart from ten years ago, with a pendant around his neck as a memento, and he can't even remember her name or face!
Nisekoi: False Love Volume 1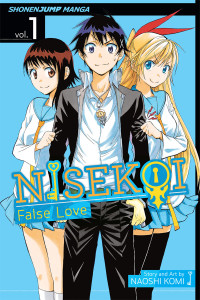 By Naoshi Komi
Publisher: Viz Media
Age Rating: Teen
Genre: Rom-Com
Price: $9.99
Rating:





Nisekoi started out as a digital only series that did well enough to move up to a print release. I'd heard others raving about it before it was officially licensed, so despite my poor luck with rom-coms, I decided to give this series a try. So far, it's not too bad.
The basic premise of the series is far from original. Boy who doesn't want to be a gangster like his father gets thrown into relationship with rival gangster boss' daughter to keep the peace between the two gangs. And of course, they have to hate each other, so there is plenty of conflict as they pretend to like each other for the benefit of the gang members. But Nisekoi surprises by actually making this premise entertaining.
Raku and Chitoge are key for making the series work. Their first meeting if far from ideal, as Chitoge uses Raku as a landing pad when she jumps the school's wall since she's running late for her first day.  Their dislike for each other is established very quickly, while everyone at school thinks their constant bickering is cute and a sign they really like each other.  This feeling extends to their extended families, the gangs, so the pair finds themselves trapped, otherwise a lot of people could get hurt.
Chitoge is the one who has the hardest time making the false relationship work. She is quick to anger, and the first to resort to violence. We don't know how she feels about being part of a gang, other than how difficult it can be to make friends, but she has definitely embraced the violence of her father's trade. She does have her softer moments, but they are few and far between, and for some reason only Raku gets to see them.
Raku definitely doesn't want to be the heir to his father's gang. He has dreams of living a normal,legal life as a civil servant. He doesn't like violence, and is the cook for the gang, being very precise in his measurements, down to nearly the gram. He also likes to rescue animals, creating what is essentially at zoo at his school. Raku's nice streak extends to people, as he offers his Japanese notes to Chitoge when he sees her struggling the class, and even helps her in cooking class after she tells him she wants to make a good impression with their classmates.
Even though Raku has to pretend to like Chitoge, he is actually attracted to his classmate, Onodera, a quiet girl who is on the student government, and is nice to Raku, but who also harbors her own crush on him. This sets up the classic love triangle, with the nice girl to contrast against the violent girl. I don't know how I feel about Onodera yet. She could be the girl of Raku's dreams, literally.
For ten years, Raku has harbored the dream, a distant memory now, of a girl he made a promise with to meet again someday. Even though he doesn't know the name or face of the girl, he has a lock that he wears around his neck, and the girl will have the key to open it. Onodera has a key that could go to the lock. The girl in his first dream has dark hair like Onodera. But then, after meeting Chitoge, he has another dream/memory of a different looking girl with blonde hair. Could there be more than one girl?
Most of the comedy in Nisekoi is based around Raku and Chitoge bickering and then suddenly having to pretend they really like each other. One of the members of Chitoge's gang, Claude, the member who has been watching over Chitoge doesn't believe in the pair's sudden declaration of love, and spies on them at school, the one place they had hoped they could be themselves. They are forced on a date, and followed (and cheered on) by both gangs, though the rank and file guys have totally bought into the act, as bad as it is. Most of these scenes weren't bad, but I found I liked Raku and Chitoge's bickering more than Chitoge's macho behavior, or the sudden 180s they have to do every time they are almost caught.
I don't know if Nisekoi will be able to keep my attention for long. Despite enjoying this first volume, the potential for this to turn into a harem series, which I really dislike, is high. Raku and Chitoge's bickering punctuated by quiet moments are what really kept me interested. The thought of adding more girls to the mix really sounds unappealing. But then, I know I'm in the minority on this point. Nisekoi: False Love was a fun read, and if given the chance, I'd read more, but it's not on my must have list.