As high sciety's social calendar opens up and the Season draws to a close, London is gripped by fear. Someone has taken to stalking women of the night and painting the town red…in their blood. But while the name on everyone's lips is "Jack the Ripper," the name on Queen Vitoria's lips is Phantomhive. Summoned to London to clean up the mess created by this madman, young earl Ciel Phantomhive arrives with his extraordinary butler Sebastian, at his side to pour him tea, polish his silver, and …investigate a serial killer!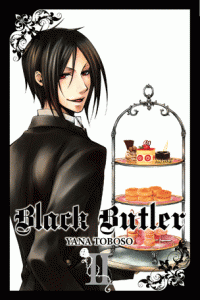 By Yana Tosobo
Publisher: Yen Press
Age Rating: Older Teen
Genre: Supernatural
Price: $10.99
Rating:





The second volume of Black Butler starts off as light-hearted as the first. It opens by showing us a day in the life of Sebastian, as he deals with idiotic servants and a caprious master who off-handedly mentions that several orphans will be visiting…the next day. Sebastian's internal dialog throughout this chapter is just hilarious as he tries to keep his cool with each new catastrophe interrupting his attempts to prepare for the visit. And his stress-reliever at like this is just awesome. Cats. He loves them, and where he comes from, they don't have pets like cats. I love the image of the pets they do have. Even though I enjoyed the first volume, this chapter cemented Black Butler as a must have title.
Things start to get more serious after this chapter, as Ciel is called by "her" to look into the murders that have been happening in the East End of London, Jack the Ripper. It's a slow build up as the search for him starts. Ciel's aunt, known as Madame Red is introduced as is her friend, Lau, the British Branch Manager of the Chinese trading company Kong Rong. We also meet one of Ciel's underworld contacts, a very odd man known as the Undertaker, a rather appropriate contact considering the case. Sebastian gets some payback here, as he engages in some misdirection that leads to Ciel being forced to attend a ball dressed as a girl as part of the investigation. He is a devil after all. The volume ends with Jack's identity being revealed, and it's quite a twist. There is more to the killings that just being random murders.
I'm still really enjoying Black Butler. There is still a good amount of humor, even without the comedy relief servants. The wicked humor between Sebastian and Ciel balances well with the darker drama that is growing in the series. And Sebastian's moments with cats really make me smile. But when it get serious, it doesn't hold anything back. Even though we don't get to see the scene of the last murder, we can tell from Ciel's reaction that it is truely horrifying.
There are some nice extras that round out the volume, including a bonus scene that shows Ciel's "training" to act like a proper lady, a look behind the scene of making the manga with Toboso, and a picture of the cast as in a medical drama. And doctor just might be needed with the promise of a serious fight coming up in the next volume. I look forward to seeing Sebastian in action after the small glimpses we've gotten so far.