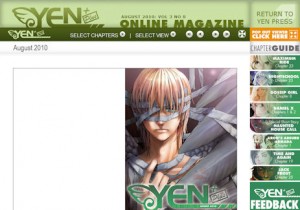 It was starting to become a tradition for me. Going to San Diego Comic Con and by Saturday afternoon, stopping by the Yen Press booth and picking up the anniversary issue of Yen Plus. I didn't go to SDCC this year, and by the same token, Yen Plus wasn't given out this year. It had gone digital, with a free preview available until September 9th, so I am still able to do my annual One Year Later post.
So, what's changed in the move from print to digital? First off, the August/Preview issue has no Japanese-licensed titles in it. It's all Korean/OEL manga. Compared to the last two years, this isn't necessarily a bad thing. I didn't care for the Japanese offerings in the premiere issue, but there was definite improvement by the 1st anniversary (namely Black Butler and Hero Tales). But the Korean/OEL side still held sway over me, so having this issue be mostly that didn't bother me.
One of the things about going digital that might not be as Yen Press planned is how much easier it is for me to skip over the titles I don't want to read. In print form, I would generally start at the beginning and read through all the chapters, whether I really liked them or not. I'm going through every page, whether I'm actually reading them or not. I'll skim the things I'm not all that interested in, but that usually ended up with me reading the whole chapters anyway. This meant I gave titles I wasn't too interested in more of a chance, because I'd at least read them. With the digital version, I had no problem just skipping past Maximum Ride, a title I have read chapters from and didn't really care for, and Gossip Girl, one I haven't even tried to give a chance.
Actually, my reading of the this issue had me skipping all around, something I don't think I'm going to do again. The way the digital magazine is set up is identical to the print version, with articles and ads interspersed between chapters, and as I prefer to read print, this made the flow of the digital version much easier to get into. It felt like the print magazine on the screen which is an experience I prefer. So, let's take a look at the chapters I did read.

This title continues to be a strong anchor for the magazine. Even though I haven't read vol 3 yet, reading this chapter made me want to go out and get it. The sohrem and their hosts, Alex and Ronee had been captured and nearly had the power sucked from them by Night Lords, but they are rescued by Marina also a sohrem host, and some of the Hunters. The person responsible their capture is also responsible for breaking their seal. He is caught when things don't go according to plan and turns out to have an interesting connection to Mr. Roi, who had sealed the sohrem away in the first place. Very good chapter that kept the action and story going.

This is a new title based on another series by James Patterson. It's got a sci-fi feel to it. As this was the debut of the series, we get to chapters to introduce Daniel and his special powers. He can change his shape as well as create people and things out of thin air. And not just holograms, real, flesh and blood people with independent thought and memories. The story has Daniel going after Most Wanted #6, Ergent Seth, who is currently in Malibu, CA, working in the film industry. Daniel enrolls in a local high school as a cover and is distracted by a girl, Phoebe. Meanwhile Ergent Seth strikes, and there's a cat in his house. The story has me intrigued, so I'll keep reading it. The characters are interesting too, and the art is really nice. I'm taking to this one much better than Maximum Ride.

This story is a one shot by Madeliene Rosca, the creator of Hollow Fields, a OEL series published by Seven Seas. It's about a young girl, Catherine, who is learning to be a Ghost Hunter, like her father. One night when he goes out to work, the police come looking for her father, but Catherine decides to take on the haunting herself. With her book, lantern and bell, she pieces together what's really going on. It's a cute story with a funny ending. I don't know that I'd want to see more of these characters, but more from Rosca would most certainly be welcome!

This is a color 4-koma, or comic strip, series. It's about a rich, spoiled young man who decides to become a pirate. His only crew is Robin, a guard from Aron's estate that will do anything for money. He is a good fighter, and quickly increases the crew after a show of force when another pirate ship tries to take them over. It's cute and funny, in the way that clueless leads who beleaguer their smarter subordinates can. It's good for a quick read, but it's not anything I would want to keep for the long run.
I've read the first three volumes of this title and it's still just as awesome. This is the best of the manhwa titles. Baek-On Ju is a traveling exorcist who is accompanied by Ho-Yeon Won, his bodyguard. The tales in this title are mostly episodic, with Baek-On being presented with a problem, and him solving it without making a bit of trouble for Ho-Yeon along the way. The overarching stories in this title have to do with the main characters past. This chapter relates to a past wrong Baek-On committed and can't forgive himself for. It's an emotional chapter as are most of the chapters dealing with him. It's an excellent read, and a series that is easy to jump into at any time.

Not a great title, but one of the originals from the magazine's beginning. Jack Frost is a horror title that likes lots of gore and panty shots, but not so much on plot. This chapter has the North side recouping from an attack from the South Side and Helmina and Jack scheming for more fighting. And a new character Avid decides to going to battle to take on Jack Frost for title of most powerful in Amityville. I'm not sure why I keep reading Jack Frost, for all the lackluster writing and characters and fanservice, but I think I'm being hopelessly optimistic for a real story to come out. Well, since it comes with the magazine, I guess I'll keep following it. Just on the off-chance it surprises me.
The reading experience wasn't as bad as I thought it might be. I've tried Yen Plus out on three different monitors. My 19″ LCD at home, 17″ CRT at work and my 4.3″ HTC HD2 phone. All the regular manga chapters looked good on all three screens. Yes, surprisingly, even the HD2 was readable. The popout window made everything crystal clear, and zooming on the HD2 worked well. The only problem I had was with Aron's Absurd Armada. The only way to be able to clearly read this title was by going Full Size in the popout window, and even then I was scrolling up and down and back and forth on the screen, especially on the 17″ monitor at work. It's enough to give one carpel tunnel! So Yen, even if it's on a desktop computer, Zoom is a necessary option, especially with a 4-koma where the windows are smaller and the text gets lost in the background. The reading experience needs to be at least as good as the print, in that it shouldn't feel like work for me to read the pages. If I have to get closer because of my eyesight, that's one thing, but if it's blurry even then, then the problem is on your end.
Other issues I had were also minor, such as a page "sticking" in Daniel X. The previous page appeared twice, but after going out and going back it fixed itself. And some screentone just doesn't work online. If you want to go blind, just view the Jack Frost chapter. The plaid screentone used through most of it is painful.
I like the navigation bar on the side for chapters and the pulldown menu at the top that also lists the articles. The side bar is only available in main browser window. If you go to the popout window, you will have to use the pulldown menu. There is a minor page turn animation as you flip through the magazine which you can do with a click on the page. It will take you back and forth through the magazine, though jumping chapters was easiest with the side bar. There are arrows at the top that will also control page turns, but the most ideal would be arrow keys on the keyboard.
And as for archiving, I don't think that's necessary. The digital magazine is for marketing. To make an archive available would be the same as saying "Don't buy the books, just read your manga here for super cheap", and I don't think that is Yen Press' intention. Now, I could see them selling digital copies of the books when they come out at a discount for Yen Plus subscribers. Maybe as a bonus for being a subscriber. But I don't see a reason for Yen archiving the issues themselves. I did once, but with years of Shonen Jump and the thought of digging them out to read One Piece doesn't make it worth it. I would rather buy the collected books than try to read a series through the mags.
Overall, this first version of a digital Yen Plus isn't bad. Neither is the price. At $2.99 a month, I don't mind paying to read even just the three titles I enjoyed the most.  It's still a good deal as far as I'm concerned.  And with more on the way, Yotsuba!& has been hinted at, there is a lot of potential here. I think I'm going to stick it out this time and see how it progresses.