Teenage manga artist Kanna Tezuka's series about a high school for Buddhist statues is facing cancellation! Meanwhile, the manga course that's given her so much free time to draw at school is under threat from a principal taken with the next big thing: light novels! Their teacher's solution to this existential crisis is an inspiring field trip, but will it be enough to get these dogs to start drawing at last?!
Manga Dogs Volume 3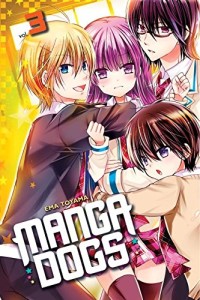 By Ema Toyama
Publisher: Kodansha Comics
Age Rating: Older Teen
Genre: Comedy
Price: $10.99
Rating:





I didn't really care for the first volume of Manga Dogs. The characters weren't interesting and the stories weren't funny. But I was given the opportunity to read the final volume, so I decided to give it a try to see if anything had improved. I can safely say, the series didn't get any worse, but neither did it get any better.
Kanna continues to struggle to keep her series from being canceled. She gets a new editor who believes in her talent, but doesn't actually do anything to help her improve the story. The boys continue to be delusional, and be more of a hindrance than help to Kanna, until they are given an ultimatum. Produce a manga that will be published or the program will be shut down in favor of a light novel program.
Not much has changed from the first volume, something I shouldn't be too surprised by after reading Missions of Love a few volumes later. The boys are still lazy and assuming they will be great without doing any work, and are still annoying as all get-out. Kanna at least has grown slightly as a character, and it shows by the end. After a year with the boys, they have grown on her some, and she doesn't object to spending some time with them.
Most of the chapters didn't appeal to me again, as they were more of the same, the boys messing things up for Kanna more than helping. They chase away a potential new student while trying to act cool, and answer some interview questions that were for Kanna. I did like the cultural festival chapter, where they do a version of a haunted house, but instead do what it's like to be a mangaka. Their version is more scary than a haunted house. I also like the pilgrimage their teacher takes them on to all the places where the gods of manga stayed and worked to give the kids inspiration, and also so she could pray to the gods of manga to help save the program.
Overall, I did like this volume a little more than the previous. Kanna's growth, and some of the humor did work for me, but those things were too few or far between to really make this volume work better. I still spent more time shaking my head than smiling, though I did feel a bit of vindication when it truly sank in how much work the boys would have to do get a story ready for a contest.
As a satire, Manga Dogs does lampoon much of the industry. Editorial gets hit the hardest with Kanna's editors being ineffectual at best and harmful at worst. The boys are shown to be what most hardworking artists hate most in fans; those who think they can do just as well or better without the work. Even Kanna represents what artists shouldn't be like by just going along with what other people say than craft a story herself. It might have worked too, if Kanna had been in any way appealing as a character. Manga Dogs had its moments, but there are better manga-about-creating-manga that deserve your money more.