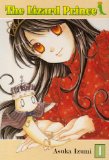 The Lizard Prince Volume 1

By Asuka Izumi
Publisher: CMX
Age Rating: Everyone
Genre: Romance/Fantasy/Comedy
Price: $9.99
Rating:





Canary is the princess of the kingdom of Linaria.  Her father, the king has promised her hand in marriage to Heath, the handsome prince of the kingdom of Gazania.  Canary isn't crazy about this, because Heath has a bad reputation.  The Prince has his own reservations, and gets his brother Sienna to pose as him on their first date, convinced he'll drive her away.  But the plan backfires when chemistry ignites between the two.  The only problem is, Sienna's been under a spell, which turned him into a lizard.  And once he's done posing as his brother, he reverts back to that form!  Will love really conquer all in this mixed up triangle?
The Lizard Prince is a fairy tale turned quirky romance.  It starts out much like the Frog Prince, but is able to transform itself into a funny and charming romance with wide spread appeal.