In the city of Nekota, where rapid modernization threatens everything the longtime residents hold dear, one young man has stood up to oppose progress. Inukai and his team of vigilantes, known as Grasshopper, protect the citizens from the rising crime wave and the greedy hands of businessmen bent on turning every block into a modern strip mall. But what is this public hero's true motive? Is this angelic man actually a devil in disguise?
High school student Ando has the special ability to make others say out loud what he's thinking. But will this be enough to uncover Inukai's secrets and stop the plot to control the city?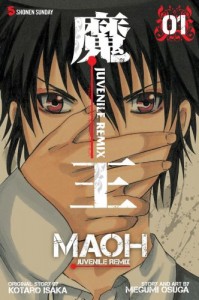 By Megumi Osuga
Publisher: Viz Media/Shonen Sunday
Age Rating: Teen+
Genre: Mystery/Drama
Price: $9.99/Free Online
Rating:






Buy This Book
Change is unavoidable. It's a contradictory constant. But the forces for change can be either good or bad. This first volume of Maoh: Juvenile Remix shows how words can bring about change, but leaves the question of its benefit open to interpretation.
The volume starts by introducing the protagonist, Ando, a high school student in the 11th grade. Because of an incident when he was young, he tries not to stand out.  He has the ability to make people say what he's thinking and was ridiculed by his classmates for it. Now, he likes to blend in with the crowd, and not get involved with other people's business. He is a bystander to the world around him.
Enter Mr. Inukai, the leader of a vigilante group known as Grasshopper. His is good-looking, confident and charismatic. He always has a benign expression and gentle smile on his lips. He and his followers patrol Nekota City, protecting the people from harm. Inukai's greatest weapon in this fight seems to be his words. He can sway a crowd to his way of thinking or inspire individuals to action. Even Ando, who sees him in action one day. Inukai's claim that anyone can change the world if they believe it enough, stirs Ando from his inaction. Using his ability, he helps a girl being groped on a train, and tries to help a classmate who is being bullied.
Ando's fascination with Inukai gives him a glimpse in a darkness that seems to exist in Inukai and the Grasshoppers. Instead of being scared away by this revelation, Ando becomes more interested in Inukai and determined to find out what his real motives are.
When I first started reading this title online at Shonensunday.com, I didn't think much of it. Reading the first volume however, has really changed my opinion. There is a lot going on here, between And's ability and Inukai's true intentions.  Inukai seems helpful, and to have good intentions toward the people of Nekota City. But like other charismatic leaders from the past, he may have more sinister motives. Ando says it as he's talking to his classmate Kaname and asks what if Inukai is the devil? It's a powerful question and gives the reader a lot to think about.
The panel layout is easy to follow, and the art is decently done. It was difficult at first to figure out Inukai's gender, and he has several female qualities, but I found the ambiguity about his gender added to the mystique of his character.
Maoh: Juvenile Remix isn't an action title but neither is it boring. There is a bit of talking, both in internal dialog and in discussions between characters, but it's not just exposition. There is a real story going on here, one that's definitely worth checking out.
Review copy provided by publsher. Images © Viz Media