Fumi Yoshinaga is a mangaka that I've heard a lot about but didn't have a lot of opportunity to read her non-BL work. When the opportunity did present itself, I decided to take the chance and started with this short series.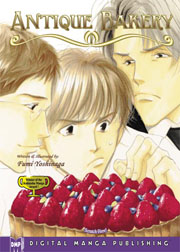 By Fumi Yoshinaga
Publsiher: Digital Manga Publishing
Age Rating: 16+
Genre: Drama
Price: $12.95
Rating:






Buy These Books Now
Antique Bakery is a slice of life story that follows the lives and relationships of the four men who work in a bakery called Antique. Keisuke Tachibana is the owner. He's a success in every career he tries, except he can't keep a girlfriend. Yusuke Ono is the pâtissier and a former classmate of Tachibana. He is gay,and is cursed with a "Demonic Charm" that can make any man, straight or gay, fall for him. Except Tachibana. Eiji Kanada is Ono's assistant and student. He's a former delinquent and boxer with a sweet tooth. Chikage Kobayaka is a waiter and childhood friend of Tachibana. He's clumsy, and not very bright. Tachibana has to look after him. Over the four volumes, we see glimpses of not only their present lives, but also flashback of their past, showing how they became who they are now, as well as how they change by working at Antique.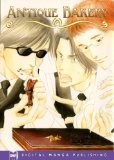 One of the strengths of this series is the interaction between the characters. Even though they are all co-workers, and Tachibana is the boss, there's a real bond of friendship between them. They can bicker with each other, as Tachibana and Eiji often do, with Eiji calling Tachibana "old man" (he's only 32), but it rarely escalates beyond that. Tachibana is constantly complaining about the lack of respect he gets, and how difficult it to run the business, but he still shows he cares as both an employer and a friend. Ono is set in the role of peacemaker, always trying to keep Eiji and Tachibana calm and from getting into any more verbal fights. Everyone has to help Chikage because he is so clueless about everything. He doesn't even realize that Ono is attracted to him. It's fun to watch these characters. Each has an interesting back story in their own right, but bringing them together and seeing them interact is really entertaining.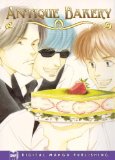 Another strength of this series was seeing the characters grow. From volume 1 to volume 4, all of the characters slowly change and develop further into slightly different people. A couple even find some closure to issues that affected them deeply. Ono is able to not only get over his paralyzing fear of women, but he's able to go home and face his family, and mother. Tachibana helps a boy who was kidnapped in a similar manner as he was when he was 5. Even though he is unable to face (or remember) his own kidnapper, helping the boy helps him move on. Eiji grows both as a pâtissier and as a person, and by the end is able to go off on his own some. Even Chikage makes a try of living on his own. It was very satisfying to see these characters develop and move on. Most shojo and shonen doesn't do this.
The only thing I didn't care for, and this is a personal thing only, was all the long and detailed descriptions of the pastries served at the bakery. I'm not interested in knowing what's in a cake or pastry. It's really boring to me, and I often just skimmed over the descriptions. I just don't see this title being about the food, but about the characters. The bakery is just the reason to bring them together, not to expound the greatness of some pastry.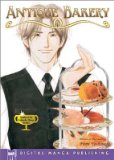 The art is wonderful to look at. All of the men are bishonen, but varied not only between each other, but also between their professional and personal lives. Ono the pâtissier looks very different from Ono the playboy. And Tachibana and his facial stubble is just plain funny. No one seems able to recognize him with it. Yoshinaga's drawing is delicate, with fine lines and very detailed, something I think you could truly call art.
Ultimately, Antique Bakery hits all the right buttons for a good relaxing read. It's a bit like it's subject. It's fun to read, but you wouldn't want to gobble it down. It's satisfying from the first bite, but it's something to savored rather than shoveled in and looking for seconds. If you're looking for a title with well written characters that develop and grow, definitely check this title out. The story will pull you in and the characters will leave you satisfied, like a good dessert.