While at summer camp, the young Si-Joon gets lost in the mountains. He a girl wearing a pig mask and follows her home. Bribed with food, Si-Joon agrees to marry her. Eight years later, the memory of that day has been more like a dream that quicly becomes a nightmare when the girl in the pig mask appears at Si-Joon's door on his 16th birthday, ready to consumate their marriage.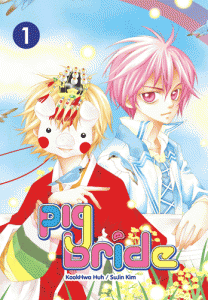 By KookHwa Huh & SuJin Kim
Publisher: Yen Press
Age Rating: Teen
Genre: Romantic Comedy
Price: $10.99
Rating:






Buy These Books
I first discovered Pig Bride when I picked up the inagural issue of Yen Plus, and was immediately charmed by it. This manhwa is a romantic comedy with elements of the supernatural and reincarnation. The series starts by emphasing the comedy more than the romance, but cunningly sneaks in the romantic elements as the series goes on. While the overall tone of the series is light, there are some more serious elements, that keep the title in balance.
Pig Bride is populated with quite a cast of characters. They are varied in their personalities and well-developed. Si-Joon, the male lead, is just a normal teenage boy who suddenly has the strangeness of a pig-masked fiancee thrust upon him, and acts accordingly. Mu-Yeon, the female lead, plays the already-in-love fiancee perfectly, following Si-Joon around and calling him 'Milord'. But she isn't ditzy or annoying. She is smart and skilled as well as sweet. She gets along well with Ji-Ho, Si-Joon's best friend. Which is unusual, as Ji-Ho doesn't seem to like the girls that try to get close to Si-Joon. He's rather stoic toward Si-Joon's situation, and seems to like Mu-Hwa, Mu-Yeon's sister. Mu-Hwa is similar to Ji-Ho in some ways. Her expression rarely changes and she doesn't speak much. But she has a great fondness for food, as when she sees Ji-Ho with a piece of Si-Joon's birthday cake, she gulps it, the plate and Ji-Ho's hand all in one bite. She does leave Ji-Ho his hand. She is very protective of Mu-Yeon, with ninja-like skills and a very big sword. Doe-Doe is Mu-Yeon's rival for Si-Joon's heart, though it isn't much of a contest. Doe-Doe's sweet and timid attitude is just an act that hides a greedy heart for Si-Joon's family's power and money. She doesn't fool Ji-Ho who is always indifferent to her, and even icy at times. She is set up as a cruel and cold person, but quickly becomes more like comedy relief as she tries to get between Mu-Yeon and Si-Joon.
It's the interaction between these characters that makes the comedy work so well. Si-Joon and Ji-Ho play well off of each other as reactionary and straight-man. Ji-Ho also has some good moments with Mu-Yeon, Mu-Hwa and Doe-Doe, though all are completely different. His cool personality makes him good to work with just about everyone. There are some classic romantic comedy moments, such as Mu-Yeon and Si-Joon getting stuck in a shower in the boys locker room as they hide from Si-Joon's classmates, and when they are alone together Si-Joon mistakes a raccoon for Mu-Yeon's touch. But these moments are rare, keeping the comedy fresh. The way Doe-Doe gets humilitated is both funny and imaginative, and shows the title's ability to be more original.
As the story goes on though, it does start to get dark. An intergral part of the plot is the story of the Park Bride. Many years ago, there was a girl cursed with an ugly appearance, and wore a mask. She married a man and won his love, which lifted the curse and made her beautiful. Si-Joon and Mu-Yeon are the reincarnations of this couple. At first, the flashbacks/visions of their past lives are of romantic moments, but with the appearance of Princess Ki-Ryong, things start to get dangerous. She is also a reincarnation from the Park Bride story. She was an assassin sent to kill Si-Baek Lee, Si-Joon's past life, and is intent on correcting her past life's failure. To do so, she must keep Si-Joon from breaking Mu-Yeon's curse. When her attempts to kiil him from afar fail, she appears in person to finish the job, and Si-Joon learns his true role in this game.
The art of Pig Bride just as light as it's story. The characters are drawn well, and in proportion, with most of the detail going into their clothes and hair. The art can drift into the realm of chibis, but it fits the tone of the story perfectly, and they are very cute.
Pig Bride is a charming series with delightful characters, and a story that slowly builds up to its climax. Like a sit-com, it is filled with lots of funny situations that can be punctuated with a dramatic or romantic moment. I whole-heartily recommend this title.