In the Monster Soul world, a war was waged between humans and monsters, with the monsters falling on the losing end of a treaty. The peace between the monsters and humans is tenuous and monsters are frequently persecuted by humans. As a result, monsters tend to stay away from humans and keep a low profile. One group of monsters, known as the Black Airs, lives boldly with a purpose: to have fun and take care of each other. They get into all kinds of trouble with reckless abandon, but as long as they stick together, they'll be all right…probably.
Monster Soul Volume 1-2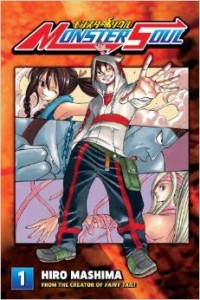 By Hiro Mashima
Publisher: Kodansha Comics
Age Rating: Teen
Genre: Action/Fantasy
Price: $10.99
Rating:





Monster Soul is a two-volume series created by Hiro Mashima before starting on his latest title, Fairy Tail. In the world of Monster Soul, humans and monsters share the land of Elvenland. Since losing the war, monsters have retreated underground, living in dungeon cities. There is still a lot of anger and mistrust between humans and monsters, especially with humans coming down to steal from the monsters' dungeons. Enter the Black Airs, Mummy, James, Toorah and Aki, four monsters commandos who fought in the war, but now fight to help those in trouble, monster or human.
The Black Airs don't look all that tough at first meeting. Mummy is a mummy and is the leader of the group, acting often more like a big sister. She is wrapped in pink wrappings that she can control and carries a huge syringe. She also likes to strip out of her wrappings. James is a Frankenstein and was built by humans to hunt monsters, but was too kindhearted to hurt any. He is equipped with all kinds of weapons, and has a propensity for losing his face. Toorah is a golem and is made of a sand she can control at will. She can be a bit ditzy, but also cunning when needed. Aki is very much about his stomach and his fists. He appears to be human, except for the horns on his head. He is a special monster, known as an S-type. He can transform into his soul form, a Dire Wolf, with increased speed and strength. His only problem is that he falls asleep as soon as the battle is over.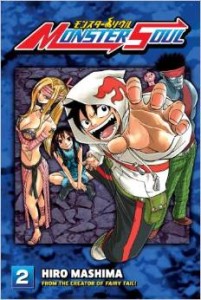 The Black Airs face off against both humans and monsters looking to cause trouble. Human bounty hunters who try to capture rare monsters for their bounty, more monsters rising up in revolt against the humans for revenge. What you are doesn't matter to the Black Airs, only what you do. Along the way their past is revealed as well as the adversity they faced and overcame to become the heroes they are seen as today.
I enjoyed reading Monster Soul. The characters are goofy and quirky with just enough pathos for the reader to care about them. I liked Aki a lot, with his one track mind to his stomach, and his Dire Wolf form is cool. James' face constantly falling made for some good laughs. I didn't care so much for the male gaze with Mummy and Toorah, but that goes with the territory of a Mashima title. The story breaks up easily with the first volume being stand alone stories that introduce everyone, and the second volume is one arc that brings together the themes of friendship and harmony. There is plenty of action, and each of the Black Airs get to show off in at least one battle. It also has quite a bit of humor. I liked the in joke about human kids catching monster for play fighting. The drama is well done, and emphasizes the Black Airs bonds of friendship.
While Monster Soul is fun, it's also fairly average for a shonen series. The action is the focus as the Black Airs fight different and eventually more powerful foes. The art is very Mashima. You can see some of Lucy in Toorah, and Natsu in Aki. Mashima straight out states that Mummy became the model for Erza. Mashima set out to do a series about the flip side of RPGs, wondering how the monsters in those games felt, and in this respect he succeeded. He does a good job showing the monster's side and making them sympathetic. But with the series being so short, it felt rushed at the end, as the pasts of the Black Airs were revealed in short flashbacks. If you're a fan of Mashima, or enjoy fun action stories, you can't go wrong with this series. And at only two volumes, it won't hurt your pocketbook either.
Review copies provided by publisher.