Back in 2010, I was happy to hear that Marvel, who was bought by Disney, was going to bring back some of the Cross Gen properties, also owned by Disney. I had been a Cross Gen reader in the past, so it was good news to my ears that the titles would be coming back, even if they were going to be revamped and rebooted. When the issues finally came out in 2011, I bought all three titles; Sigil, Ruse, and Mystic. And I enjoyed them. They weren't exactly like the original series', but I didn't expect them to be. This was a new company publishing for a new generation.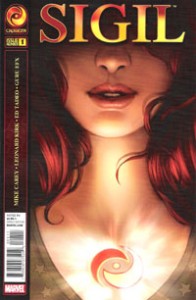 Of the three titles, Sigil was the biggest surprise. I hadn't read the original Sigil, it was a science fiction story that was the basis for the Cross Gen universe. I was more into fantasy at the time, so I didn't read it. The Marvel version was more of a coming-of-age story about a teenage girl who is thrown into a world of multi-dimensions and time travel. I didn't think I would like it at first, but it turned out to be a good story with a strong female character. I thought teen girls would enjoy it. The ending was nice and open-ended. There was plenty of room left of more adventures.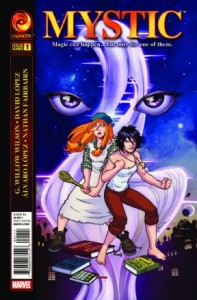 Mystic was a title I had read in the original universe, and was the first Cross Gen I ever read. I really enjoyed the original series, I didn't know if Marvel could do a repeat. Again, I was surprised that Marvel could come up with another good story with strong female characters. In this one, two orphans Giselle and Genevieve, who are like sisters, secretly study the Noble Arts, ie magic. The two become rivals though, when Giselle is picked to be an apprentice at the Noble Academy, and Genevieve gets tossed into the street and is taken in by rebels who want to fight against the Nobles. It's not exactly like the original story, but definitely keeps the spirit of the original, and again, by the end, I wanted to read more.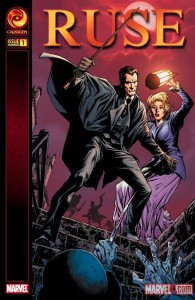 Ruse was also a title I read, and one I really enjoyed from the original series. I love mysteries, so reading about a master detective whose ties to the Sigilverse wasn't apparent. The original story sadly ended at an important junction where the sigil and connection was finally revealed. This was the only series not to get a major reboot. It only needed a few changes to get it out of the Sigilverse. This is the one title I was looking forward too and ended up being disappointed. The story seemed to be more about what Emma could be put through while Archer took all the credit. The mystery had too much going on. There were too many twists to try throw the reader off, and the ending was just a little too predictable, too obvious. I really didn't enjoy it.
I liked two out of three titles which isn't so bad considering. These were the first Marvel titles I've bought in years. I was really hoping to see more of these titles in the very least, and hopefully the return of more. And there were plans for more reboots, with Kiss Kiss, Bang Bang, a spy title, and Route 666, a horror title, originally scheduled to come out in December of 2011 and February of this year. But news has come out that these titles hae been shelved "indefinitely". In other words, hiatus hell. They will probably never see the light of day. Since they weren't typical Marvel fare, they didn't sell well in the direct market. But I suppose that shouldn't be any real surprise.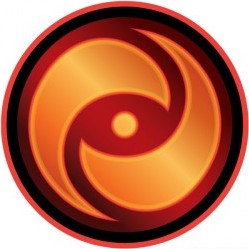 I was really hoping that the opening of the Cross Gen universe could have been a new start for Marvel to reach out to more female readers, and these first three titles, especially Sigil and Mystic, really seemed to be doing that. It's really disappointing that they are killing the line so soon. But that seems to be what the big comic companies do. They don't market their titles to an audience that will buy them and then cancel them when they aren't big sellers. If Marvel had any illusions that these titles would do well in a direct market environment, then they only have themselves to blame, and should feel bad for disappointing both old and new fans for ending it so soon.
Though, we all know they won't.