It is the distant future, and giant beings known as Titans who have a taste for human flesh have decimated the planet. Humanity has been beaten back into a three walled city where for 100 years they felt safe and became complacent. The sudden appearance of a 150 meter tall Titan changes everything as humanity loses a wall to the Titans. One boy to survive the initial attack is Eren Yeager, whose hate for the Titans makes him work hard and join the Survey Corps, so he can face and fight the creatures that destroyed his home and family. But in his first battle, he is eaten. When all seems lost for his unit, something happens that changes everything.
Attack on Titan Volume 1-7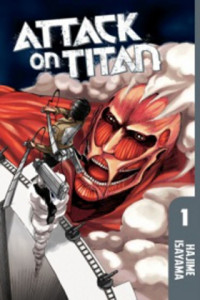 By Hajime Isayama
Publisher: Kodansha Comics
Age Rating: Teen+
Genre: Fantasy/Horror
Price: $10.99
Rating: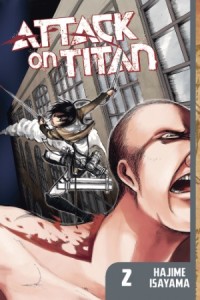 I thought I was going to be able to let the Attack on Titan bandwagon pass me by. I wasn't wowed by the first chapter, so I felt no inclination to look further into it. But curiosity and some review copies got me to crack open a volume and I was hooked from that moment on. I thought I could make do without going back to earlier volumes, but as I read further, references to events from the beginning made me think I should catch up. I binge read the first seven volumes, which filled in some gaps, explained a lot of things and even cleared up some misconceptions I had.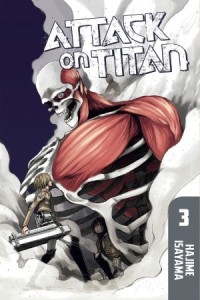 The series starts just before the wall breach, introducing Eren Yeager, Mikasa Ackerman, and Armin Arlert, who live in the outer city of Shinganshina. After some wanton destruction by the Titans, the story jumps 5 years and we see the three friends again, graduating from military academy. Eren has only one intention; to join the Survey Corp and fight Titans. The first fight doesn't go well for his squad, but Eren reveals an ability no one, not even he, was aware he could do. He transformed into a Titan. These first seven volumes jump between the past and present, telling the past of the three friends, their time in training, and how they continue to fight to protect humanity.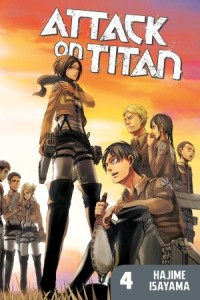 I was surprised by how much I enjoyed these volumes. I'd heard plenty about how slow these first volumes were, and that the story didn't really pick up until volume 4. I didn't find that to be the case at all. Maybe it was because I had read volumes 8-13 first, and I had a lot of questions that I was looking for answers to. These volumes moved quickly as I got to see the beginning of the friendship between Eren, Mikasa and Armin, something that had become a foundation for me when I started reading. The pure commitment between the trio held them together through Eren's revelation, and solidified their relationship into the one I so enjoyed in volumes 8-10. It also struck down a misconception I had about their relationship. I didn't think there were any romantic feelings between the three, but reading these volumes made it abundantly clear that Mikasa has some feelings for Eren, that as a typical shonen hero, he is completely oblivious to.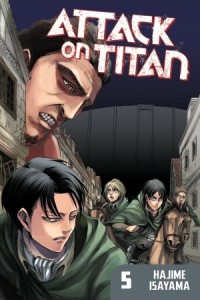 These volumes also gave me a different perspective on some of the side characters. Connie and Sasha, who seemed more comedy relief in the later volumes, were shown to be more serious and capable at the beginning. My first exposure to Levi and Erwin were in the spin-off title No Regrets, so seeing their first appearance was bit of a surprise. Especially Levi. I was expecting a more serious and dark character, but he was surprisingly relaxed. He was still blunt, and a clean freak.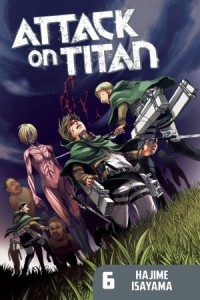 I enjoyed the way the story unfolded, with more questions than answers being presented with every volume. Why could Eren transform? What did his father do to him and what did he know? Were there any other humans inside the walls that could transform? What did this mean about the relationship between humans and Titans? I liked the way the reader was drawn in to ask the same questions as the characters and want to search for the same answers. I also felt the time jumping was handled well. The transitions between past and present were easy to distinguish and often related to what was going on in the story, making them feel integral to the story and not just tangents.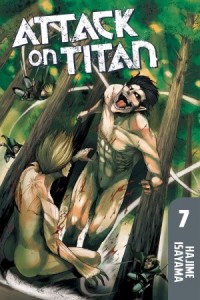 The only problem with these volumes is the art. It really isn't very good, especially at the beginning. The Titans are supposed to look weird and surreal, but not the humans. Faces are often not one the head straight and there are some problems with proportion. The art did start to improve as the story went on, but it's fortunate that the story and characters are so engaging that the poor art can be overlooked.
I really didn't want to get drawn in to Attack on Titan. Post Apocalyptic horror stories really aren't my thing, but I'm glad I did. Isayama has managed to create an engaging story on several levels, and characters that you care about from the start. While the art does leave a lot to be desired, it gets better, and it's worth getting through for the story. If you're looking for a bandwagon to jump on, this one is definitely worth the ride.