Shiro Kakei, lawyer by day and gourmand by night, lives with his boyfriend, Kenji Yabuki, an outgoing salon stylist. While the pair navigate the personal and professional minefields of modern gay live, Kenji serves as enthusiastic taste-tester for Shiro's wide and varied made-from-scratch meals.
What Did You Eat Yesterday? Volume 1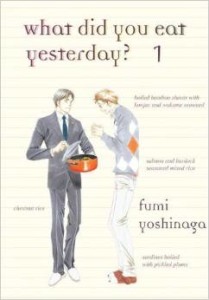 By Fumi Yoshinaga
Publisher: Vertical, Inc.
Age Rating: Older Teen
Genre: Cooking/Slice of Life
Price: $12.95US
Rating:





Fumi Yoshinaga is best known here in the US for her BL titles, but any porn that might be found in What Did You Eat Yesterday? will only be in the kitchen. Yoshinaga is also a big food enthusiast, and this title combines her love of preparing (and eating) food with the life situations of a gay couple. While at first appearance, this title is a foodie's dream come true, there is still plenty of story to make the book interesting to us non-foodies.
What Did You Eat Yesterday? starts with that very question being asked of Shiro and his co-workers. While the others are vague with their answer, Shiro recites a long list of dishes including ingredients. This is the first sign, other than the title, that food will be a big part of the story. Yoshinaga doesn't disappoint as every chapter has at least 3-4 pages dedicated to Shiro planning and preparing the nightly meal. No detail is spared as Shiro's internal monologue catalogs the ingredients, how they should be cut, how long they are cooks or boiled and even at what temperature. If quantities were included, this part of the story could be a how-to instruction for cooking many of the meals. I'll come out and say this right now, these parts of the book were the ones I found the most uninteresting. I'm not foodie, and never will be. Watching people cook doesn't interest me, and didn't even stir my appetite, so if they were cut down to one panel, or even cut out, it wouldn't bother me.
But to Yoshinaga's credit, these scenes could be condensed or cut out and the story wouldn't really suffer. Shiro's and Kenji's relationship is really the heart of the series, and the part I thoroughly enjoyed. Each chapter looks at the daily life of Shiro or Kenji, at their job interacting with co-workers or clients, or friends and family. It's through these interactions that we get to know them. Shiro is the serious and straight-laced half of the relationship. He hasn't told his co-workers about his sexual orientation, and keeps them at a distance with regards to his personal life. He doesn't like anyone, including Kenji to talk about it to anyone else. He is very frugal with both his money and his emotions. This helps him in his job, but can cause problems at home.
In contrast, Kenji is very open about his feelings. He is gregarious with his clients and is the "bomb disposal specialist" for the shop he works for, his tenacity giving him the ability to take on the more difficult customers. He is also the more insecure of the two, worrying that Shiro might be attracted to a client and being jealous of Shiro's former girlfriend who now runs a bakery. He isn't afraid to show his emotions, from joy to breaking down into tears.
The supporting characters are just as fun and eccentric as you'd expect from a Yoshinanga series. Shiro's mother is just plain crazy as she tries to be accepting of Shiro's orientation, but ends up driving him nuts. The introduction of Kayoko, Shiro's straight female friend was really funny, and she makes a great cooking buddy for Shiro. I also really like Shiro's co-workers. Kenji's boss and co-workers haven't done too much in this first volume, but Kenji taking on the difficult customers was really funny.
I love Yoshinaga's art. He draws her characters realistically in a minimalist way, but can easily and quickly drop them in a caricature with wide, long faces that get these great expressions. She gets the feeling across of surprise or impishness with little more than a look.
What Did You Eat Yesterday? is starting out to be a really fun series. This first volume has lots of great moments of humor and realistic relationship issues that anyone gay or straight can understand and relate to, but at the same time also show some of the things that only gay couples would have to deal with. I really enjoyed this series, and if you're not reading it, or passing it by because you think it's BL or too foodie, then you're making a big mistake.
Review copy provided by publisher.