What is love, anyway? Ninako Kinoshita's friends tell her it's one thing, but Ninako wonders what this mysterious feeling is. When she meets Ren Ichinose, the handsome, enigmatic guy that all the girls worship, her life takes an unexpected turn. With just a few words and a smile, he changes her world. Ninako's friend Daiki throws her for a loop when he expresses romantic interest in her. She cares for him, but can she return his feeling? As she tries to short out her confusion, Ninako realizes that there are many different facets of love–strange and wonderful sides…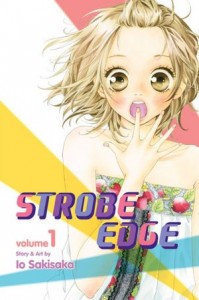 By Io Sakisaka
Publisher: Viz Media
Age Rating: Teen
Genre: Romance
Price: $9.99
Rating:





Falling in love for the first time is a strange, wonderful and sad feeling all at the same time. Watching Ninako slowly realize that the feelings she's starting to experience are those of first love was a fun and delightful experience.
Strobe Edge starts out seeming like the typical love triangle. Ninako is a first year in high school, and a little gullible. She is also completely clueless about the feeling of her best friend since elementary school, Daiki. Her chance encounter with the school's "idol prince", Ren, seems innocent at first. But, as she gets to know him, and sees the real him outside of school, it's hard for her not to have feelings for him, even knowing he already has a girlfriend, or Daiki's true feelings, doesn't chance her mind.
And I really can't blame her, since Ren does seem to be a really good guy. He buys Ninako a new cell phone charm when he accidentally steps on it. He helps her on the train when she is being harassed by another passenger, and misses his stop and walks her home after she has hurt her ankle at school. He even gives up his seat on the train for a pregnant woman, telling he's about to get off even though his stop is still a ways away. Daiki doesn't seem like a bad guy either though. He's the loyal best friend who waited too long to tell Ninako how he felt, though it might not have mattered, since Ninako just doesn't feel the same way.
I really enjoyed watching Ninako change little by little. Her starting to appreciate girly things, like the butterfly charm Ren gets her, and just thinking about painting her nails and being glad they looked nice as Ren helped her home. I also liked how her feelings for Ren grew slowly and weren't the usual instant love that so many romance manga like to do. She starts out just wanting to show her friends that they take the same train, but her awkwardness endears her to him and she is even graced with a smile that he never seems to have at school. Even her stalker-ish behavior when she waits at the train station to see if he really has a girlfriend wasn't creepy. She just had to know, and even knowing doesn't change her.
The fact that she doesn't change fundamentally is what really makes her a good character. She doesn't try to be someone else for Ren. Her changes come from her feelings. The volume had a nice twist at the end with Daiki, and Ninako reaching out to Ren even though she knows what his answer will be was a really sweet moment. You really can't help but root for Ninako and that is what really made me like this title. I cared about Ninako, and what happened to her, especially since she knows this is just her first love and wants to cherish the feeling even if it means breaking heart as well.
Strobe Edge is starting out to be a sweet romance. While I do hope that the triangle between Ninako, Ren and Daiki continues, I really just want to follow Ninako on her journey of discovering love. I actually think following all of them would be interesting. The art is well done, and different enough from a lot the other romance titles that it should stick out in a good way. I really looking forward to more volumes of this series. If you are a fan of love and not just romance, you should too.
Review copy provided by publisher.