No matter what the culture, knowledge has been equated with power. For centuries, this knowledge has been stored as words in books. Whether it's a list of names or a wizard's tome, books have been regarded as being magical. It's no different in manga. There are several titles that feature books and the power of words with the ability to create, transport its readers to other worlds, and even kill.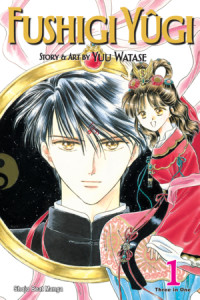 Fushigi Yugi and it's prequel Fushigi Yugi Genbu Kaiden, both feature a magical book, The Universe of the Four Gods, that pulls the main characters, Miaka and Yui in the original, and Takiko in the prequel, into its story. Each of the girls is found to be a Priestess of one of the four gods, and Miaka and Takiko are tasked with finding the celestial warriors after which they can summon their god and make a wish The book itself isn't used much in the story, but is the catalyst for the girls to start their adventures. Fushigi Yugi is available in 6 omnibus editions and Genbu Kaiden just finished its print run at 12, and both titles are available at Vizmanga.com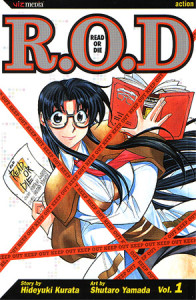 Read or Die and the related Read or Dream, isn't so much about books themselves having power, but what they are made of, paper as having the power. In Read or Die, Yomiko Readman, a papermaster who can control paper and shape it into anything she wants. Yomiko is a secret agent for the British Library, and uses her powers to keep the peace. She loves books and often spends her money on them rather than food. Read of Dream is a spin-off of read or Die and follows three sister papermasters in Hong Kong, who run a detective agency. The three sisters, Maggie, Michelle and Anita, are very different and control different elements of papermastry. Like Yomiko, Maggie and Michelle are big book lovers, but surprisingly Anita hates books. Both titles are four volumes each and are available in print.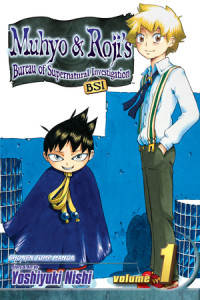 In Muhyo and Roji's Bureau of Supernatural Investigation, Muhyo is an executor, a graduate from the Magical Law School that allows him to be Judge, Jury and Executioner on supernatural beings found to be breaking the law. He does this through his Book of Magic Law, a thick tome that holds all the laws of magic and allows Muhyo to pass judgement on the wrong-doers and summon the envoys that take them to either heaven, hell or the river styx. The Book of Magic Law is Muhyo's proof of being an executor and no one can use his book but him. The series went 18 volumes and is available in both print and digital.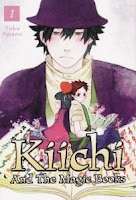 In the world of Kiichi and the Magic Books, people known as Librarians travel the land bringing books that people can borrow and read. Mototaro, one such librarian is also special. He has the power to make images in books come to life. Part of the reason he travels is to find old books that have become unstable; the pictures come to life on their own. This series was published by CMX and is unfortunately out of print, but a great story if you can find all five volumes.
In Death Note,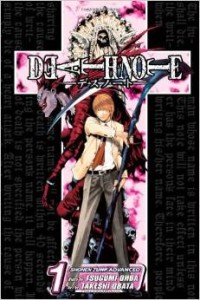 while the book, the Death Note has power, it's what's written inside that makes it work. The Death Note is a book used by Shinigami, Death Gods, to send people to the afterlife. One Death God, Ryuk, drops his death note into the human world to see what happens. It is found by high school boy Light Yagami. With the death note, he can write anyone's name into and that person will die of a heart attack if no means of death is provided. Light uses the Death Note to go on his own personal killing spree, intent on cleaning the world or criminals, until only people he deems worthy live. Death Note was a big hit when it came out and had anime adaptation, though came under some criticism as kids around the world came up with their own "death notes", writing names of people they wanted hurt or dead in them. There are 13 volumes in print, digital, box set, or omnibus editions.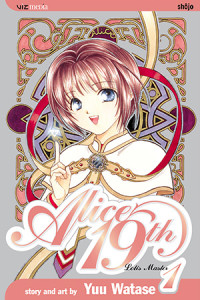 Books aren't always necessary to hold power, sometimes just a word is all that is needed. Alice 19th is about Alice, a high school girl destined to become a Lotis Master. Lotis Masters use the power of words to reach the inner heart of others and banish the darkness from their hearts. Here, there are no books, just words used to find the darkness in people, and turn that darkness into words to be banished. There are also maram words, dark reflections of lotis words. Alice 19th was written by Yuu Watase, the creator of Fushigi Yugi and Fushigi Yugi Genbu Kaiden. It went for 7 volumes and can be found in both print and digital.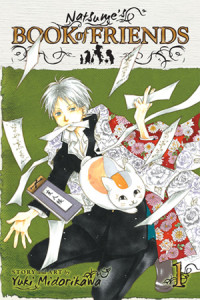 In Natsume's Book of Friends, there is a book, but it's what's written in it that matters. Takashi Natsume has the ability to see spirits and yokai. He moves in with some relatives and finds his grandmother's book of friends, a book filled with the names of yokai his grandmother fought and won the names of. With the book, Natsume has power over these spirits. While he doesn't want this power, there are other spirits who do, and Natsume is hunted by them until he befriends Madara, a power ayakashi, who makes a deal with Natsume to protect him until he dies a natural death, at which point Madara can take the book. Here, names have the power, as it forms a contract between the spirit and the human, and only Natsume's breath can release the name and end the contract. This series is still ongoing with 17 volumes available in print and digital.