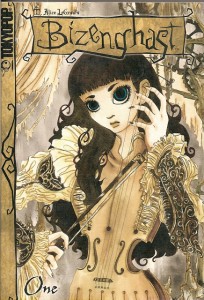 Three weeks into the new year and I've wrapped up my second series. Bizenghast is an eight volume series that was among Tokyopop's first original titles, and was also the longest. I first discovered it when Tokyopop ran the first few chapters online. It's a fantasy mystery series about a young girl, Dinah, who lost her parent when she was young. With her only friend Vincent, she discovers the Mausoleum, and accidentally enters into a contract with it, and must solve riddles to free trapped spirits. It's a coming of age story for Dinah as she learns to live again and starts to become someone who can rely on herself. Both the story and the art are uneven, especially at the beginning, but improve as the story goes on. The improvement in the art is very telling, especially in the last volumes.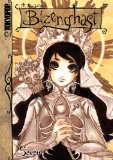 I enjoyed watching Dinah's journey overall, but did have some problems with it. It felt rushed at times and dragged at others. I would have liked to have seem more about Bizenghast's past more in the first volumes, so that it doesn't seem like a thrown on after thought at the end. I also didn't really care for the way Vincent's fate was handled. It was too abrupt and passed over too quickly to really make an impact. Despite these problems, the characters really make this series shine. The first guardian Dinah gains is Edaniel, and some of his lines and antics can make a volume worth the read. He is usually seen as a demon cat, but in human form is a total bishie. I prefer his cat form. He makes a lot of pop culture references, but it was the Mythbusters one that not only caught me off guard, but totally sold me on him.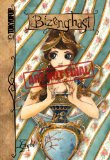 I was going to donate this series to my library. It seems perfect for teens and I think they would really enjoy the series, until I got to the end of volume 7. It wasn't the end of the series like I thought. It ends on a big cliffhanger, and while there is a post on LeGrow's blog about being in talks with Tokyopop about getting volume 8 out (it was scheduled for release in July 2011), that post was from September with no updates. So my question to all you readers is, do I donate this series knowing it may never end and leave all its new readers hanging? Is that really fair?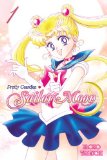 This week I also read the first volume of Pretty Guardian Sailor Moon. In a previous post I had said I couldn't bring myself to take the chance of buying it and then find out I didn't like it. I had seen plenty of reviews and opinions, and people seemed split about it. But, thanks to Ash Brown of Experiments in Manga, I won a copy of volume 1! I have to admit that I did like the first volume, but only because I listened to Erica Friedman on the Manga Outloud podcast about it. She explained that the series was based on Tokusatsu shows like the Super Sentai series. When I read it with that in mind, I could not only totally see the Super Sentai influence, I could also see past a lot of the problems people had with the volume. I'll go into that more in my full review. I may look into further volumes.
Pretty Guardian Sailor Moon Volume 1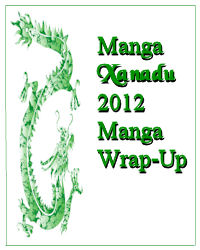 In the next week I will be starting on Black Cat, a shonen series from Viz. I got to volume 14, though I may have to go back a volume or two since I haven't read a volume since 2007 or 2008. I'm going to be interspersing some newer manga in this week as well, so I can keep up on reviews too. Maybe some Black Jack or Zombie Loan.