Hikaru has passed the Pro test, and is waiting to hear about his official schedule. In the meantime, Sai pesters him to let him play more, and Hikaru relents, allowing Sai to play Akira's father in the Shindodan series with a handicap, and then again on the internet in an even game. Hikaru's skills are growing fast, and Sai worries he won't be able to remain with him for much longer. Just as Hikaru's pro games start, something happens that causes him to have a crisis of faith, and nearly gives up on Go. But the return of Isumi, a fellow Insei from the previous year, shows Hikaru he hasn't lost anything. Hikaru returns, more determined than before to not only be Akira's rival, but to surpass him.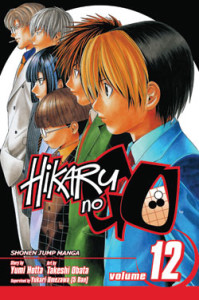 Written by Yumi Hotta; Illustrated by Takeshi Obata
Publisher: Viz Media – Shonen Jump
Age Rating: All Ages
Genre: Gaming
Price: $9.99
Rating: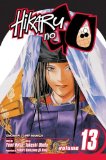 I started reading Hikaru no Go when it debuted in Shonen Jump back in 2004, and read it religiously until it was "graduated" out in 2008. Once it went to graphic novels, I stopped reading, as my acquiring of volumes was sporadic. I only finished collecting my missing volumes this last year. With the MMF schedule for this month, I put off reading the series until now to participate. I had thought this might be a series to pass on as part of my Manga Wrap Up, but after reading these 6 volumes, I have come to realize that this is not just a compelling series, it's one that needs a spot on bookshelves.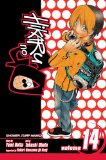 Over the last 11 volumes, we have been watching Hikaru develop and grow into a Go player in his own right. Sai continues to want to play games, but now he is getting resistance from Hikaru, who wants to play more himself. In these 6 volumes, we see how much Hikaru takes Sai for granted. He assumes he'll always be around to play, so he'd rather play other people. But after finally getting to play Koyo Toya, Sai sees something much different in the future. It really feels frustrating to see Sai almost pleading with Hikaru, and Hikaru just brushing him off as being annoying. But Hikaru is just acting like the kid he is, so while it's not surprising, that doesn't mean you still don't want to smack him for it.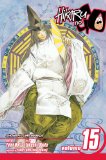 There are a lot of emotional punches in these volumes that stem from that not-so-distant future that Sai sees. It's emotionally draining to see Hikaru running around to all the sites where Hon'inbo Shusaku, the boy Sai possessed before Hikaru, lived, played and died. It was just heartbreaking when he looked at old records of Shusaku's and could see Sai's moves in them. He not only realized Sai's genius, but could truly appreciated it. The effect is devastating for both Hikaru and the reader. But all of the emotional moments are sad. After being talked into a game with Isumi, who has just spent a couple of months in China to improve his game, Hikaru has an epiphany, that not only shakes him out of his funk, but reignited his passion for Go, and seemingly for life. The final chapter of volume 17 is bittersweet as a sort of passing-of-the-baton occurs, but knowing that Hikaru will be alright now is worth it.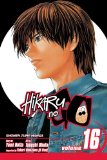 It's these strong, emotional moments that really make Hikaru no Go such a compelling read. When a writer and artist came make the emotions they want to express feel real to the reader, they have truly succeeded in making a great story. Hotta and Obata do that, not just with Hikaru's story, but with all the characters that are followed throughout this series. Obata's art is beautifully rendered, and realism with which she draws just makes the emotional punches to the gut all the more stronger. I'm gonna miss Sai, with his Heien dress, and often cute expressions.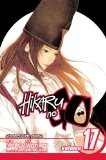 Because it had been so long since I read Hikaru no Go, I thought it would be a series I could let go. But after getting through this gantlet of an arc, I've come to realize that not only can I not let go of this series, but I must have it in print. It's too good to relegate to a digital bookshelf. It needs to be on a bookshelf for all to see and reach for.