Hiroshima, 1955. Ten years after the city was consumed by a scorching flash of light, the soul of Minami Hirano is still deeply shaken by the earth-shattering explosion that devastated her home and changed her life forever. To the weak, the victims, what did the war mean? What pieces of certainty changed and broke that morning, when the sky lit up with a fire like a thousand suns? A controversial story of the aftermath of disaster, long after conflict is over and the dead are long buried.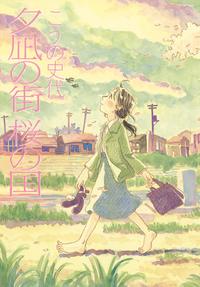 By Fumiyo Kouno
Publisher: Jmanga
Age Rating: Teen
Genre: Slice of Life
Price: $4.99
Rating:





This isn't the first time The Town of Evening Calm, The Country of Cherry Blossoms has been published in English. Last Gasp first published it in print in 2007. Jmanga then got a hold of it and used it as one of its launch titles. It was well received originally, but it took me until the last days to get it and read it. It is a story that deserves every once of praise it received.
The Town of Evening Calm, The Country of Cherry Blossoms, is essentially the story of one family over 3 generations. It follows the Hirano family, starting 10 years after the bombs fell with older sister Minami. She and her mother are survivors of the bomb, and live in a shanty town in Hiroshima. Minami works and takes care of her mother. Uchikoshi is a boy who works in the same office and comes to check on her when she doesn't come in one day. He likes Minami, but she chases him away. Minami has memories of that day the bomb were dropped, and they haunt her. Survivor's guilt gnaws at her, and just as she seems to ask forgiveness for living, she succumbs to radiation sickness.
This first chapter, The Town of Evening Calm, was incredibly powerful. Minami seems okay as she goes to her job and helps out her mother at home. But the memories that haunt her, of the burnt bodies everywhere, the desperation to find family members, it was all burned into her mind, making her think the world after, the one where she lived wasn't the one where she belonged. But more powerful than that was her slow death from radiation poisoning. Much of it is shown from Minami's perspective, as she loses her energy, coughs up black blood and then loses her sight. All of her observations from this point are heart-wrenching, and it gave me a cold feeling in my stomach when she asked if the people who had dropped the bomb were glad she was dying. If there was ever needed a short story about why atomic bombs should never be used again, this is it.
The Country of Cherry Blossoms follows Minami's younger brother Asahi, who wasn't in Hiroshima at the time and was spared the devastation. It starts 30 years later, with Asahi's children, Nanami and Nagio, and their next door neighbor Toko. Nagio is in the hospital with asthma and Nanami and Toko bring cherry blossoms to cheer him up. The second chapter is another 20 years after the first with Nanami and Toko following Nanami's father as he visits people around Hiroshima, and how he and Nanami's mother met.
This second half of the volume didn't have the punch the first half did. The memory of the bomb is faint now for Nanami and Nagio. But the stigma of being a survivor or related to a survivor remains. Asahi, who after being adopted by his Aunt and Uncle, returns to help his mother, and meets Kyo, a girl who lives nearby and helps out his mother. Asahi watches Kyo grow up and eventually falls in love with her. Kyo, as a survivor, suffers some prejudice at school as her slow learning is blamed on it. His mother, a survivor herself, is against Asahi marrying her at first, because she doesn't want to see anymore loved ones taken because of the bomb. Later in a letter to Toko from Nagio, Nagio implies that his asthma might be because his mother was an atomic bomb victim, and gives it as a reason why they can't be together. Nanami has a good answer to that.
Taken as a whole, The Town of Evening Calm, The Country of Cherry Blossoms is a wonderful generational story of a very dark moment in human history. Toko's reaction to seeing the Peace Museum for the first time is a very real and visceral feeling, even 60 years later. Kouno's art is simple and cute, contrasting against the darker, heavier story. Minami's story is a reason why it should never happen again, and Nanami and Toko's story reminds us why we should never forget.  I highly recommend it.