War is over. The Friend is dead. Mankind no longer faces the threat of extinction. Peace has finally come to Tokyo…Or has it? The mystery still remains. Nobody knows who the Friend was and where he came from. The only clue is hidden deep within the memories–the memories of the hero Kenji. It is time to open Pandora's Box and discover what is left at the bottom.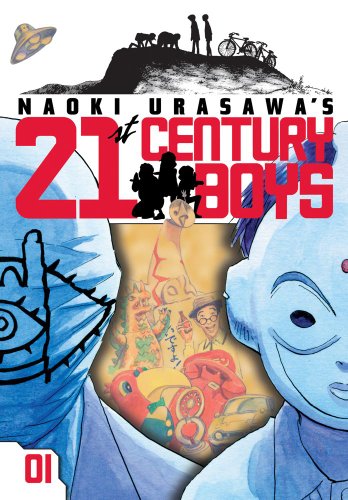 By Naoki Urasawa
Publisher: Viz Media – Viz Signature
Age Rating: Older Teen
Genre: Mystery/Thriller
ISBN: 978-1421543260
Price: $12.99
Rating:





21st Century Boys picks up right where 20th Century Boys volume 22 left off, even replaying scenes from the end of that volume. This volume is not a sequel, but a direct continuation of the story left unfinished in 20th Century Boys. The story turns to trying to discover the true identity of new Friend, and stopping the one last threat to mankind that Friend left behind.
After Friend and his super-duper virus is stopped by Otcho and one of Friend's former followers, Tamura Masao, and the childhood friends are reunited, the fallout from Friend's death begins. Japan is taken over by UN forces in an occupation that looks a lot like the one after World War II.  UN Forces want to know who Friend was, but despite Friend's death declaration that Kenji knows, he really doesn't. So Kenji volunteers to go into the virtual attraction to navigate his childhood and find his true identity. In the meantime, it is discovered that one more threat was left by Friend at the Expo, in the Tower of the Sun; an anti-proton bomb.
This volume sort of redeems the disappointment I felt at the end of 20th Century Boys, since it continues the story left unresolved in the last series. I really don't see a reason to end 20th Century and continue it as 21st Century, since nothing is really different between the two. It has the same characters, doing the same things, and it ran in the same magazine in Japan. So what was the point? Anyway, the story returns to 1971 to an incident at Jijibaba's that is seen in the previous series and is played out to it fullest in this volume. I'm not sure if it to be believed, since we don't know exactly whose memory it is, and with Friend's mental state, I find him an unreliable narrator. So, I'm not sure if it is a scene to be believed or not. I enjoyed Urasawa's twists before, but after so many in the previous series, I'm not giving him the benefit of the doubt anymore. He need to earn my respect back.
Detective Chono finally shows what he is made of. After being so weak in the last series, he steps up as a leader in the police department in the occupation and really grills Yamazaki, a man who was like an uncle to him, and who killed his beloved grandfather. I found Yamazaki's reason for joining the Friends kind of sad and shallow. If he was really that much of a friend to Cho-san, he should have known the respect the man felt for him, and not fallen victim to the petty jealousy he ended up using as an excuse to follow Friend. Cho-san's greatness is revealed in this volume as well, though, in a classic thriller move, we only see Yamazaki's reaction to Cho-san's revelation in his notebook about the "Friend Behind Friend."
It was hinted at all through the previous series, but this volume also reveals some of the romantic feelings Kenji and Yujiki felt for each other, but could never admit. It started when they were children, after the incident with Yanbo and Mabo, where Yujiki started to see Kenji as her White Knight. Kenji obvious had feelings for her as he wanted to ask her out, and Yujiki tried to see Kenji after one of his concerts but got shut out by fans. It's their familiarity with each other that seems to keep them from taking that step to admit their feelings. I really hope that happens finally. They really need to be happy and together.
Even though this called 21st Century Boys volume 1, it is really 20th Century Boys volume 23, but it really doesn't feel like a penultimate volume. It feels more like the start of a new arc. But with only one volume, 8 chapters left, it can't be. This series really needs to get a final wrap, and give every one an ending, happy or not. Though I would prefer a happy one if at all possible. Right now, all I want is a resolution, and I am really hoping that the events in this volume lead to just that.